4th Regional Focus Group in Silesia

Together with the representatives of social institutions from the Western Subregion of Silesia we had a meeting and knowledge increasing event. It was an opportunity to invite potential participant of project operations.

The topic of the joint cross-project meeting was development of social innovations in the Silesian Voivodeship, particuarly the offer of the Social Innovation Incubators and Hubs.
The first presentation was given by Sebastian Garbacz, representative of the Social Initiatives Development Centre CRIS. He delivered infomration concerning the system supporting incubation of social businesses in Silesian Voivodeship and its operations in the following thematic areas:
social revitalisation of the cities,
depopulation,
development of "white" jobs (in healthcare and social services),
development of "green" jobs,
employment of senior citizens and women,
alleviation of negative impacts of fuel poverty.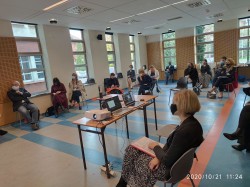 Consequently, the represesentatives of the Municipal Social Assistance Centre in Wodzisław Śląski presented the experience and activities executed at the local level addressing the needs expressed by the communities. Ewa Błędowska and Agata Wilczyńska desrcibed small actions which had significant impact on improvement of social situation in the municipality of Wodzisław Śląski. 

Michał Szyszka and Piotr Stoły representing WSB University described thoroughly the planned activities which will be implemented in the Social Innovation Hub established in Dąbrowa Górnicza. They underlined the intergenerational concentration of all trainings and consulting which are parts of the social innovation development scheme. They also discussed the international dimension of all activities and best practice used to preparation of the contents of training and consulting programs. 
Methods of development and implementation of innovative solutions in on the example of the municiality of Rybnik were explained by Blanka Długi from the Social Welfare Center.
The meeting was also an opportunity to present the terms and conditions of participation in the training activities in IN SITU project. We have opened the recruitment for the first cohort and are planning to start the meetings in November 2020. Naturally the form of the meetings will depend on health safety regulations announced by the government.