First sessions of Train The Trainers held online!

Covid-19 pandemic affected some of our project activities, but we found a good solution to proceed with TTT sessions. Instead of physical meeting, we moved the trainings to the cloud.

Delivery of support for the disfavoured groups requires having perfectly educated trainers and tutors. Within our project's activities there was prepared a common training scheme and training content addressed to the staff of our Social Innovation Hubs.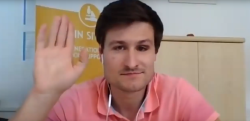 It was originally foreseen to be held physically in Italy and Austria, but due to the sanitary reasons, we decided to reorganise the content and move it to the cloud. In the beginning of June, there were organised six online sessions of trainings, where the following topics were covered:
understanding the customer,
design thinking,
business model canvas,
crowdfunding,
The content of the trainings - incl. videos and printed materials - is available here.