Invitation for Budapest stakeholders
The first meeting of the stakeholders group in Budapest will be held on 29th January 2020. 
The event is the local kick-off meeting for local stakeholders: NGOs, technical and policy experts and municipalities from the functional urban area of Budapest.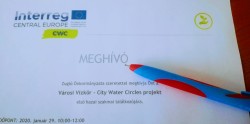 The participants will receive information about the main goals and outcomes of the City Water Circles project and the principles of futire coopeartion will be established. 
Are you interested? Contact us on citywatercircles@gmail.com