Study Trip in Jenbach (Austria)

The Achensee steam cog railway (German: Achenseebahn) is a 6.76 km long metre gauge railway running between Jenbach and Seespitz on Lake Achensee in Tirol (Austria). Within its length, it rises some 440 m in height, with the steeper sections using the Riggenbach rack system. It is Europe's oldest cog railway which is still steam operated. Steam and cogwheel driven railway is a tourist tour. Ride with Achensee Railway takes 50 minutes from Jenbach to Achen Lake. The line has 5 stops (Jenbach, Burgeck, Eben, Maurach, Seespitz) and the steam locomotive gives an excellent glance back in 19th century and provides experience to all passengers.
During World War II and years after, railway was an important method of supplying the region with goods and materials, but today this railway route is used by people visiting Tirol as tourists and hikers.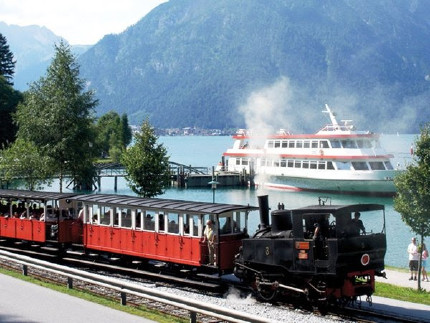 From Seespitz, there is a boat service on Achen Lake, where people can enjoy a ride with a modern excursion boat. Excursion boats make tours around the lake from one dock to another, six in total, and back.
You can find more information about the practice on: www.achenseebahn.at, www.tirol-shiffahrt.at.