Pilot Action in the Municipality of Tolna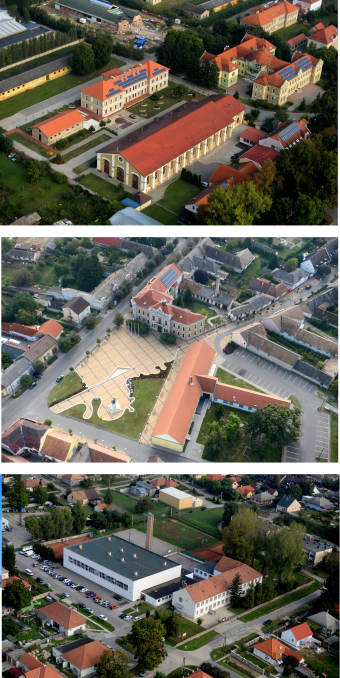 The pilot action to improve energy efficiency is implemented in 3 buildings: Town Hall with an area of 1 922 m2, 'Lovarda' Cultural Center and Library of Tolna with an area of 1 959 m2, volume of 10 000 m3 and Sport Center with an area of 2 050 m2, volume of 15 500 m3.
The Town Hall and Cultural Center are three-story buildings, while the Sport Center is a one-story building. The buildings were built in 1906, 1898 and 1983, respectively. The Town Hall building is used by 40 employees and 50 visitors per day, Cultural Center building has 8 employees and 50-800 visitors per day and Sport Center is used by 4 employees and 100-450 visitors. Municipality of Tolna is the owner of the buildings. The Town Hall building has been reconstructed in 2011. Its heating is provided by 2 gas condensation boilers and radiators. Lighting is provided by ordinary neon lights and E27 incandescent light bulbs. The Cultural Center system heating is provided by 2 gas boilers, hot domestic water is also produced by gas. At the hall, gas-fired overhead radiant tube heater provides the heat. Regarding the lighting, neon lights can be found at the offices, locker rooms, and also in the hall. At the hall also metal halide lamps are operating. The building was renovated in 2007. The Sport Center is heated by a 270 kW pellet boiler, a 110 kW gas boiler and a 90 kW gas boiler. The hall is equipped with neon lights and halogen reflectors, the sport field is equipped with halogen reflectors. LED lights (E27 bulbs, LED tube armatures) provide light at the corridors and locker rooms.

The following objectives have been agreed as part of the pilot:
detailed measurement of the energy flows in the building in order to reveal lavish usage, leakages, malfunctions and to be able to monitor the consumption of the building parts with different functions;

increasing the comfort of the building use;

easier operation of the building;

promoting and disseminating knowledge about energy efficiency measures in buildings.
The pilot action in numbers:
investment period: 03-08.2019;
investment cost: 13,800 €;
4 people involved in PA implementation;

3 tools / instruments used (smart meters, energy management system, OnePlace platform);

1 training, meeting, seminar etc..
Please read the prepared Pilot Action factsheet which information about activities, investments, indicators and results.
Click here to learn more about the other Pilot Actions!
Contact information:
Balázs Kiss, project manager
kiss.balazs@tolnamegye.hu