Pilot Action in Płońsk, Poland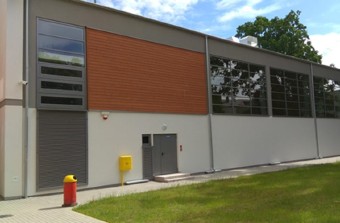 The pilot action to improve energy efficiency is implemented in the Primary School No. 1 in Plonsk with an area of 2 155,25 m2, volume of 15 760 m3. The school is a four-story building (basement, 2 floors and attic). The building is used by 416 people. The building was built in 1905. City Municipality of Płońsk is the owner of the building and will retain ownership and management responsibilities after the project lifetime. The energy class of the building has been identified as B, average annual consumption of energy needed for heating is 22996 kWh. The building is heating by gas boiler which is in good condition, but the overall condition of the building is poor. The annual electricity consumption is 26 667 kWh.
The following objectives have been agreed as part of the pilot:

improvement of energy monitoring;

modernization and control lighting system;
increasing the comfort of the building use;
easier operation of the building;

promoting and disseminating knowledge about energy efficiency measures in building.
The pilot action includes an investment in a demonstration installation consisting of the use of LED lighting and smart metering in two classrooms, implementation the "3D Energy Management System (EMS)" as a part of OnePlace platform and the Energy Efficiency financing roadmap.

The Pilot Action in numbers:
investment cost 17,400 €;

5 people involved in PA implementation.
Please read the prepared Pilot Action factsheet which information about activities, investments, indicators and results.
Click here to learn more about the other Pilot Actions!

Contact

Kamil Wyrzykowskik.wyrzykowski@plonsk.pl