Pilot Actions
What is the Work package about?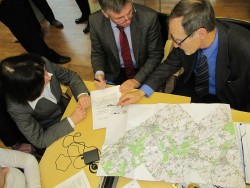 Pilot activities in all participating partner regions are implemented to test the developed joint methods and tools and to prove their feasibility and applicability. There are 7 pilot actions, with different characteristics to cover a wide range of application conditions. The pilot actions improve the developed measures with experiences and make them transferable. In addition, they deliver show cases for implementations.
See which pilot actions will be implemented on the map. Additionally, some basic information about the pilot actions are presented (enlarge the map with a click on the picture).