RAINMAN mid-term conference: transnational project exchange to make a difference locally
20th of March 2019 in Tiszakécske, Hungary

For the RAINMAN mid-term conference, the partnership made its way to the beautiful town of Tiszakécske, Hungary. The host, the RAINMAN projectpartner Middle Tisza District Water Directorate (Kötivizig), organised a memorable event and welcomed not only the RAINMAN partnership but also several local high-level political representatives.
The Mayor of Tiszakécske, János Tóth as well as Attila Lovas, director of Kötivizig, welcomed the participants warmly and invited everyone to enjoy the splendid surroundings. The town of Tiszakécske is very popular for tourists and weekend excursionists.
Ernö Kovács, Government Commissioner of Bács-Kiskun County and István Láng, Head of General Directorate of Water Management of Hungary opened the conference and listened with great interest to the presentations of Kötivizig's relevant outcomes of the RAIMAN project.
The RAINMAN partnership used the conference also to prompt a broad project exchange. Synergies between Interreg CE and DTP projects FramWat, PROLINE-CE and JOINTISZA were identified and the benefits to the local stakeholders in Hungary were highlighted.
"It was a pleasure to be here and to learn about the many project results which are being developed at the moment. I am looking forward to seeing the final outcome implemented here, in my home town…" was the conclusion of a local stakeholder.
In RAINMAN, two pilot activities are being implemented in Hunagry, specifically in "Tiszakécske" and "Kunhegyes". Both areas are characterized by low land. Because of the topographic conditions the runoff is slow and high precipitation can cause frequent inundations. In order to reduce damages caused by heavy rain the pilot action focuses on risk assessment and mapping as well as the development and implementation of mitigation measures.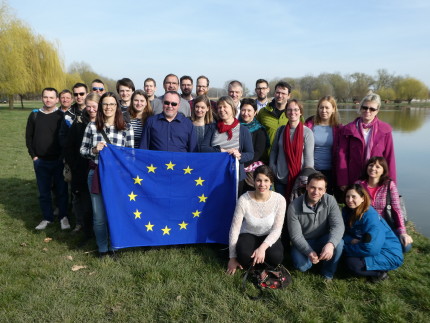 The activities in the pilot action include
the development of an assessment methodology and risk analysis for inland excess water threats,
the integration of pluvial floods into the Flood Risk Management Plan,
the further development of an Inland Excess Water Threat Index,
the generation of a risk analysis and risk map for the two pilot areas of this pilot activity,
the implementation of this knowledge in territorial planning documents, and
the optimisation of a rain water storage.
After the conclusion of the conference, the RAINMAN Partnership met on the second day for a partner meeting to discuss next steps in toolbox development. In the afternoon a lovely excursion led by the mayor, went to the oxbow in Tiszakécske.