Arne Ehritt: A great atmosphere surrounding the project
The first quarter of the project RUMOBIL is already over and we have used this occasion to get an overall assessment of a representative of the lead partner, the Ministry for Regional Development and Transport of Saxony-Anhalt, Arne Ehritt.
Our project RUMOBIL has started well and we are very pleased with the current work. The team's work is really good and overall there is a great work atmosphere, which we should keep up. The project is on the right path due to the exceptional contribution of the work package leaders. If we are able to maintain this high level then I am confident that this project will be successful.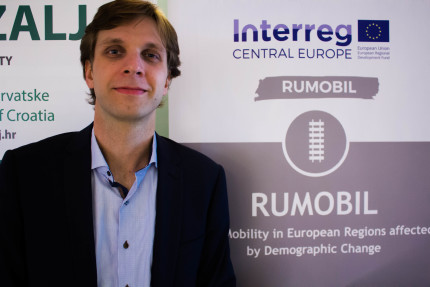 However, we are now entering an important phase, in which the next steps are more specific and the foundation for the future development of the project has to be laid. Therefore the time between our meeting here, in Croatia, and the next one in Slovakia is vital.
Additionally we should work on little things that didn't function as well, in order to prevent them from consolidating. This includes publicity, as this is an influential factor of the following phase of RUMOBIL. One of the team's aims is to increase the website's information in order to promote the project in a more diverse manner.
At this point in time, the first results of the pilot projects are available and we should use this opportunity to publish and present them.
Generally speaking, I am very optimistic that the project's progress will be successful as long as we keep up the good work.
Text and photo: Vlatka Škorić