Invitation to the city of Ozalj in Croatia
Zagreb - Tea and Martin made the best invitation for tourist trains, which will drive between Zagreb and Ozalj, within the pilot-project lead by HŽ passenger transport. Their solution was the best among many entries for the Croatian transnational competition which promoted the start of RUMOBIL activities in Croatia. 
At the headquarters of HŽ passenger, transport on Wednesday, February 1, three best web invitation solutions were announced and awarded. The best solution by Tea Pavić and Martin Peranović will be used in all media and promotional materials related to the RUMOBIL Project in the area of Ozalj.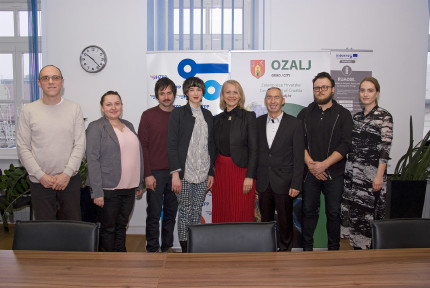 First prize for the graphic design of the Ozalj invitation – two nights for two in Ozalj Hostel in Jaškovo – was awarded to Tea Pavić and Martin Peranović from Zagreb. The information of the competition reached them over a friends Facebook page. The liked his status and the Facebook page for the town Ozalj where the contest was published few days later and encouraged them to envision an invitation that was voted best. They say that Ozalj appeals to them, and Tea commended herself for using the train to travel from Zagreb to Koprivnica to go to college.

Second prize – one night for two in the Homestead Čulig – went to media designer Eva Milković and a graphic designer Hrvoje Zalukar, both from Zagreb. They found the contest on the web site of the Ozalj City, which they visit frequently because they have a holiday home in Jaškovo and love visiting Ozalj.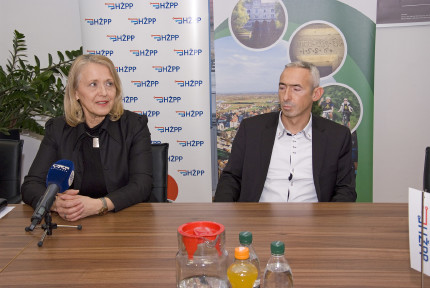 Third prize – a meal for two in the Homestead Čulig – went to Marija Marušić, a computer technician from Bratina, a place near Kupa, half way between Karlovac and Ozalj. She saw the contest on the Ozalj website and it seemed interesting to her, as did the prizes. It is interesting that she visited Ozalj only once as a little girl, but she plans to come more often now. 
While congratulating the awarded, the Maier of Ozalj Gordana Lipšinić, did not hide her delight for her city being a pilot project for RUMOBIL that will, bring thousands of tourists to Ozalj in the next 18 months, using 35 excursion trains to a number of tourist manifestations.
- This is a great opportunity for us and we will use it best we can. We plan to put a lot of effort in justifying the trust given to us by involving us in this Project. I am especially pleased that the contest that is our first group activity in RUMOBIL gathered young people and given us great solutions, said Lipšinić
- Except for the fact, we started this Project with young designers, I believe we will continue it by bringing young tourists to Ozalj County, and make possible for young entrepreneurs, culture workers and tourism workers in Ozalj to show their offer and profit from their work. To put it simple, it is the goal of RUMOBIL – to enable good work and living conditions for young people to stay in rural areas, said the project manager in HŽ passenger transport, Renato Humić.
First tourist trains are leaving from Zagreb to Ozalj in March. 
Vlatka Škorić
Photos: Ante Klečina