The RUMOBIL Mazovia system was launched
Launch of the Pilot Project

Until now, passengers using the railway in rural areas of the Mazovian voivodship never knew if their train is late or on time, making the train journey less attractive. As part of a pilot project implemented by the Marshall Office of the Mazovian voivodship in cooperation with Koleje Mazowieckie (Mazowieckie Railways), GPS transmitters were installed in the trains running on lines 27 (Nasielsk - Sierpc) and 33 (Sierpc - Płock – Kutno).

In addition, a software was programmed to make the positioning information usable for passengers. In the area's two main railway stations in Sierpc and Płock, digital info kiosks now give real-time information on the trains' arrival times. The kiosks also show how the trains connect to further departures of Mazowieckie Railways. The devices are equipped with a large touch screen and a traditional keyboard. In addition, after clicking on one of the three top logos (Mazovian, Interreg Program and Mazowieckie Railways), the user has the opportunity to browse on their official websites. The info kiosks are adapted for usage by people with disabilities. On the left side of the machine is a black button, which allows the user to raise or lower the device to the required height.


Since 1 August 2017 passengers can download the app "tropKM" for their mobile iOS or Android smartphones or tablets. Once the app has been installed, the passenger receives an access to the train tracking system on the railway line number 27 (Nasielsk - Sierpc) and number 33 (Sierpc - Płock – Kutno).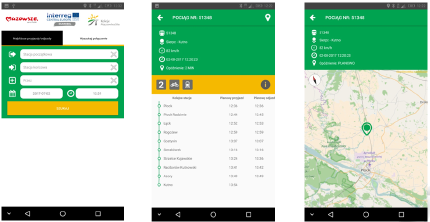 The pilot project will be tested until autumn 2018. It aims to make the train journey more attractive to passengers and hence to lead to increased use of the trains.


Links for download
Android: https://play.google.com/store/apps/details?id=pl.eltegps.rumobil
iOS: https://itunes.apple.com/us/app/tropkm/id1252252374?l=pl&ls=1&mt=8