Public transport organisation within the Olympic park Rio-Lipno in South Bohemia
Lipno is a water dam on the Vltava River, located in South Bohemia close to the National Park Šumava. Although the population density is very low in this area, the Lipno Dam attracts a lot of people especially in the summer and winter season.  
During the summer Olympic Games in Rio de Janeiro in 2016, an Olympic centre was opened on the Coast of Lipno Dam, where the people could try many of the Olympic sports and watch the live broadcast from Rio de Janeiro.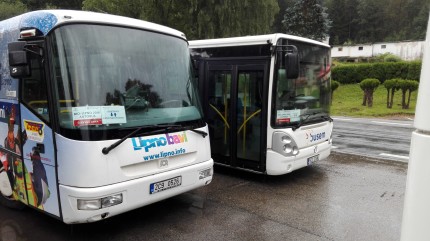 A high attendance was expected in the Lipno Olympic park. Several railway and bus lines were added in order to make the transport easier and more comfortable for all the visitors. More trains were driving especially on the line 195 from Rybník – Lipno nad Vltavou. A two-hour interval was changed to a thirty-minute interval on the busiest days (Fr – Sa). In order days the interval was changed to a one-hour period.  In addition the buses from the parking places were driving more often.
The train sets were consisted of two locomotives class 210.  There were also two double-decker coaches and a baggage car. The baggage car was primary used for transporting kayaks.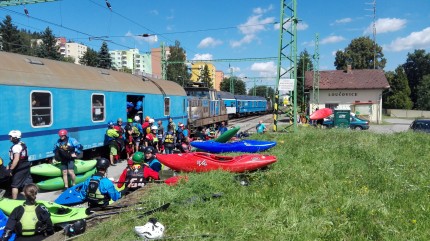 The line 194 from České Budějovice – Černý Kříž was strengthened too. During the Olympic park semifast trains from České Budějovice to Horní Planá and some local trains between Horní Planá – Černá v Pošumaví were also added.
These two rail lines were connected by a special rail bus, which was provided by Czech railways. Also bus lines had a short interval; especially the shuttle from P+R car park went every 10 minutes.   South Bohemia region, JIKORD, Czech railways and local bus operators were involved in financing of the public transport.