Saxony-Anhalt Partners learn from Citizen Bus project in neighbouring Brandenburg
For the implementation of the first Citizen Busses in Saxony-Anhalt, the project team and its partners can rely on the support of experienced Citizen Bus operators. Following the invitation of partners from Brandenburg, representatives of the Lead Partner and from Saxony-Anhalt`s pilot regions participated in a study trip to Dallgow-Döberitz on 28 August 2017.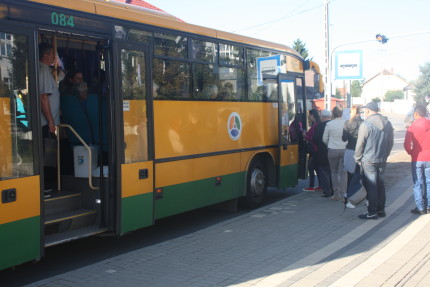 First, members of the Citizen Bus organization in Dallgow-Döberitz reported on their experiences and lessons learned. Afterwards, the guests from Saxony-Anhalt took their chance to question on organization and operation of a successful Citizen Bus project. Finally, the Citizen Bus, a minibus with maximum 8 passenger seats, was tested on a short tour to get some life impressions on its operation. 
The Citizen Bus in Dallgow-Döberitz, Brandenburg, was founded in 2014. The mini bus is driven by volunteers, who pick up citizens in neighbouring villages and bring them to the main station or city center. Since the start of the project, the number of passengers has been rising continuously.