Seasonal express to National Park Šumava
New express trains were introduced in December 2016 on the railway line Prag – České Budějovice – Linz/Český Krumlov. The trains became very popular, especially with the residents of České Budějovice. The length of the journey was shortened from 2:30 to 1:58 and is now faster than a journey with an express bus. One of the trains terminates in Český Krumlov and serves as a tourists transport from Prag. All of the express trains are ordered by the Ministry of Transport as a a part of a national long-distance passenger transport. 
An extended line terminating in Nové Údolí, which is located in the heart of Šumava, is avaliable in the summer season as well as on the spring and autumn weekends. Nové Údolí is the last stop on the border with Germany. In the past the railway line continued to Passau, but nowadays a railway museum is situated here as a reminder. Currently the transport to Germany is substituted by several bus lines. For example to Waldkirchen, where a train called Ilzalbahn to Passau, Freyung and National Park Bavarian Forest can be taken from.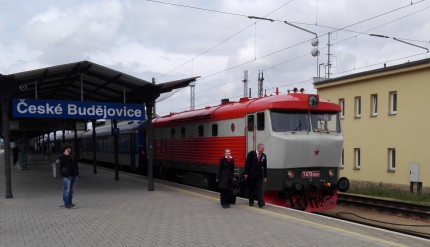 These express trains provide a comfortable journey from Prag to National Park Šumava through a beautiful landscape, such as the protected area Blanský les, training military area Boletice and Lipno Dam. A lot of hotels and starting points for hiking or cycling can be found close to the railway. These express trains also bring benefits for the local residents, since now they can enjoy a direct connection to Prag, which is especially helpful for the commuting university students.
The express trains are named after two photographers, father and son Josef and František Seidel. They became famous for photographing the surroundings of Český Krumlov.
On 5 May was the railway line officially introduced to the regional authorities, municipalities and the public. The train was hauled by a historical diesel locomotive and a restaurant car was also available for the passengers.