Transport Research Arena 2018
Digitisation, Automatisation and Decarbonisation are major trends that will drastically change the way we live, work and use mobility and transport in the future. Under the heading of "A digital Era for Transport", the Transport Research Arena 2018 (TRA 2018) held on 16-19th April in Vienna, Austria, explored, discussed and demonstrated these major paradigm shifts specifically directed at important areas of our life, such as transport, mobility, logistics and industrial production.
UNIZA partner from Slovakia presented RUMOBIL project in form of Full Paper - within field of People Mobility - Systems and Services and under title"Improvement of Rural Mobility in European Regions Affected by Demographic Change".

See more at: https://www.traconference.eu/about/chairman-address/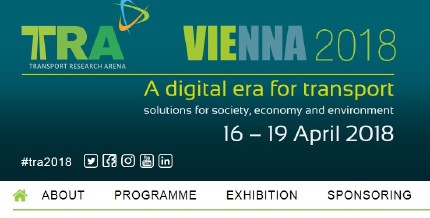 Dana Sitanyiova from the University of Zilina presented first RUMOBIL outputs at the Transport Research Arena 2018 conference held on 16-19th April in Vienna, Austria. TRA 2018 included a broad spectrum of research and innovation activities, which ranged from basic research to application-oriented engineering, social, technical and economic aspects, as well as policies and standards for all modes of transport. Pilot measures were presented in the session dedicated to Mobility as a Service and Mobility Management as innovative transport solutions for rural areas. There was a lot of space to share and discuss new ideas, research results, technological solutions and new business models among conference participants. RUMOBIL representative also participated in technical tour providing an interactive insight into the operation method of the aspern.mobil LAB in the Seestadt in Aspern near Vienna. The so called aspern.mobil LAB is one of five urban mobility labs in Austria. Its goal is to enable an implementation-driven research within the mobility sector through an intensive relationship between the residents, companies, science, politics and the administration. We were invited to experience already existing innovations on-site and got many ideas how to work with stakeholders and provide good transportation solution between the big city and peripheral area and within it. 
Recreation area at the edge of Aspern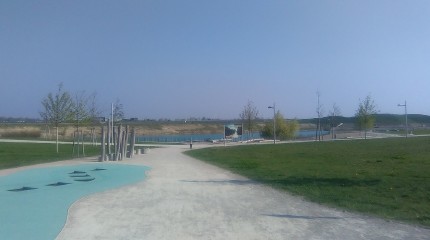 How did you come to Aspern?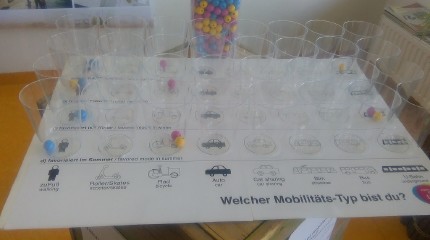 Residential area of Aspern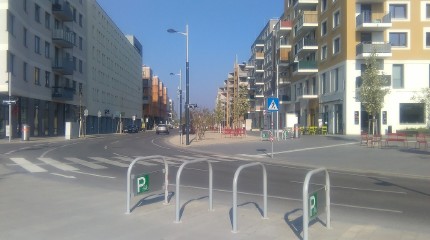 Interactive map of the town in aspern.mobil LAB