XXVI International Scientific Conference trans&MOTAUTO'18
The forthcoming XXVI International Scientific Conference trans&MOTAUTO'18 continues by tradition to annually hold a complex international scientific-technical activity on automobile, railway, aviation, material handling, road building and military techniques and technologies, as well as sciences that are close to its topic: mechanics, dynamics, strength and reliability in constructions, theory of machines and mechanisms, transportation management and marketing, logistics, safety and ecology, theory of teaching, education and scientific research.
Trans&MOTAUTO'18 will be an important scientific forum where RUMOBIL's PP6 (JIKORD) has the opportunity to give a presentation on the project RUMOBIL. JIKORD will introduce project RUMOBIL in general, with focusing on interesting pilot project and problems in mobility in rural areas in the region.
See more on: http://www.trans-motauto.com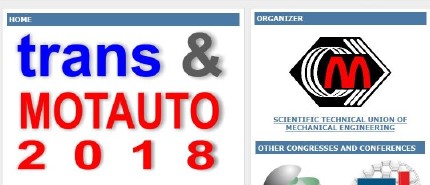 Scientific Conference trans&MOTAUTO'18 report
From 27th till 30th June 2018, the XXVI International Scientific Conference trans&MOTAUTO'18, was held in Bulgaria.  The event was organized by Scientific-Technical Union of Mechanical Engineering where colleagues from JIKORD had opportunity to present RUMOBIL project.
All participants in the conference had a chance to learn about project and read about it in article which was part of the scientific journal.  During the event, JIKORD presented project in general as well as all partners pilot actions and their contribution to the project. This events participants arrived mainly from Central / Eastern Europe, but also from Turkey and Iran to which this project was new and interesting.