am-LAB among winners of the DIH Champions Challenge 2020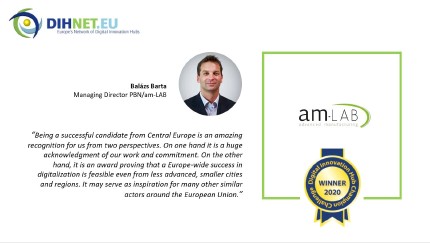 On the 27th of January, DIHNET revealed the winners of the 2020 DIH Champions Challenge at the virtual EDIH Conference 2021 "Gearing up towards European Digital Innovation Hubs". 
In this second edition, four DIHs were shortlisted as finalists: the am-LAB, the Basque Digital Innovation Hub (BDIH), the FZI Research Center for Information Technology and the ITI Data Hub (The Data Cycle Hub). The 2020 DIH Champions Challenge winners are two Digital Innovation Hubs that have demonstrated a leading level of maturity: the am-LAB (Hungary) and the Basque Digital Innovation Hub (Spain).
From S3HubsinCE we want especially to congratulate winner – am-LAB – the daughter company of Pannon Business Network Association - PBN - our Project Partner.
If you want to know more about am-Lab or about our other DIHs please have a look at our brochure https://www.interreg-central.eu/Content.Node/S3HubsinCE/DIH-brochure.pdf