BEC model as an innovative voucher tool
One of the innovative tools applied within the voucher system in the Czech Republic is also the BEC method, thanks to which start-up entrepreneurs from disadvantaged groups can test their business.
History of the Business and Employment Co-operative (BEC)
The first BEC was created in Lyon, France, in 1994 (where it is called: Coopérative d'Activités et d'Emploi, CAE), to answer the social need of isolated self-entrepreneurs and offer them a valid alternative to the individual creation of an enterprise, by allowing the testing of a project within the framework of a shared company, the cooperative. In France, at an operating level, the new entrepreneur who enters a BEC benefits from a legal framework and social protection through the acquisition of the status of "employee entrepreneur" (LOI n° 2014-856 du 31 juillet 2014 relative à l'économie sociale et solidaire or Loi Hamon) signing a CESA (Contrat d'entrepreneur salarié associé, Contract of employee entrepreneur member), a contract with essentially the same characteristics as a permanent contract (Martinelli, 2019).
A BEC is then an entrepreneurial platform supporting entrepreneurs in many ways: in terms of legal, administrative, and accounting management, entrepreneurial education (e.g. in communication, marketing, sales, etc.), experiences sharing with other entrepreneurs, and participation in the governance of the cooperative. The entrepreneur keeps his autonomy in the management of his business (brand name, customer management, fare's definition, etc.), but at the same time becomes an employee of the cooperative, where he or she can even practice "multi-activity", which means that he or she can put in place different and various economic activities (Martinelli, 2019).
How the BEC method works in the Czech Republic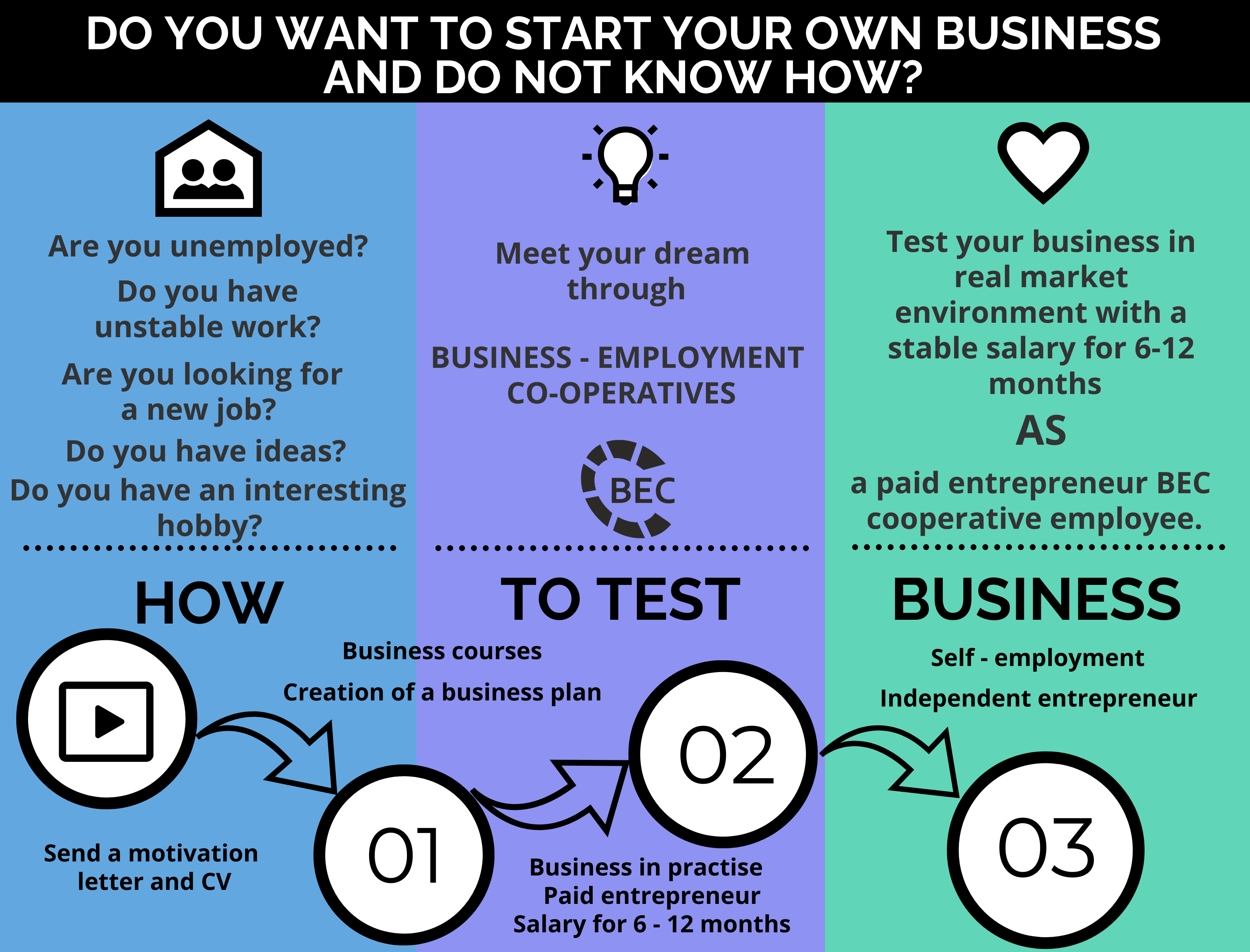 The Czech partners of the SIV Social Impact Voucher project focus on the integration of disadvantaged people into the labor market through a voucher system using the BEC, Business and Employment Co-operative methodology. The main objective is to support employment in rural areas through the implementation of the BEC methodology. It focuses on supporting the development of micro-businesses of disadvantaged people, especially the unemployed people, but also people without stable work and people that desire to legalize their activities coming out from undeclared work. 
People that are disadvantaged usually face discouraging conditions to enter the labor market, which are determined by factors such as isolation, lack of ambition, knowledge, and confidence needed to develop a business career. In this context, the BEC method has the purpose to set up a sustainable model to support disadvantaged people in the transition from inactivity to employment. This occurs within the frame of a BEC cooperative providing a safe environment to experiment with new business ideas. The BEC model acts as a non-traditional business incubator for new entrepreneurs where disadvantaged people have the opportunity to test their business ideas with the support of experts and a group of peers who are dealing with similar problems, while also benefiting from appropriate working conditions and a secure income, both provided by the BEC Coop. For this reason, BEC participants are also called "paid entrepreneurs". Their economic model is based on 60-70% of public resources (regional authority offices, EU Minister of Social Affairs and Employment) and 30-40% of own resources, of which 10-13% from the turnover of entrepreneurs testing their activity in the cooperative. The remaining share is covered by the sale of services and products to consumers. BEC Coop in Czech Republic is searching for new ways for funding: social funds, establish a foundation to support entrepreneurs' wages, public and private investors. The total net turnover they achieved is about 130k euros. 
Following the French pathway, when disadvantaged or unemployed people enter the BEC, they have to go through three phases: preparation, testing a business and independent business activities. During Covid-19, the BEC Coop had problems with the incubation of new projects and for 2020 a decline of 20% of the revenue was registered. In the preparation phase, BEC participants are trained on how to become entrepreneurs via interactive educational programs and training approaches that include business support (law, marketing, sales, identifying clients, etc.), counselling, exchange and dissemination of examples of good practice and innovation in social entrepreneurship. In the second phase, they become employees of the cooperative and receive for 6 up to 12 months salaries, becoming so called "paid entrepreneurs". This allows them to verify whether their business is competitive in the real market as well as to test their business plan and sell their services or products. During this testing phase, entrepreneurs receive a salary for 6 to 12 months even if their activity is not making profits. In the end of this phase, advisers in cooperation with the testing entrepreneurs analyze the results and sustainability of their activity. If the business activity is viable, entrepreneurs have two choices in the third phase of their incubation: to become self-employed and enter the labor market independently to further develop their business. Alternatively, if they have produced profit during the testing phase, they can choose to use this profit to prologue their permanence in the cooperative, to develop their business activity within the cooperative as employees and in meantime become full member participating in the cooperative development. Since the beginning of their activity, BEC has employed between 5 and 10 entrepreneurs each year. Most of their participants come from one of the 14 Labor Office presented in each Czechia region.
Thanks to this structure, the BEC cooperative is the combination of micro-enterprises that together form one multi-activity enterprise whose members provide a mutually supportive environment for each other. The primary BEC goal is to support business activities in rural areas, regardless of their legal form, and ensure the long-term sustainability of created jobs, developing and expanding business skills. This implies that the BEC has to offer to the external national market a wide range of business activities in many fields (accounting, manicure, massage, education, crafts, etc.).
In Czech society, the BEC represents an innovative incubator for entrepreneurs. The BEC method is a commonly and participatory approach where groups of entrepreneurs are trained together in gaining entrepreneurial skills through training, coaching and mentoring, by supporting a valuable knowledge transfer. Then, the BEC enables entrepreneurs to experiment with their business ideas while benefiting from a secure income, unlike already existing business support instruments that do not focus on stabilizing the incomes for start-up entrepreneurs in their early days. And, once the business is established, the entrepreneur is not forced to leave and operate independently but can stay and become a full member of the cooperative. 
This approach leads to long-term stabilization and development of entrepreneurial activities and self-employment with a success rate of new business created around 40% (against the 16% of unemployed people supported by Active employment policy implemented by government-based Labor offices in the Czech Republic). This is based on a turnover of 5 to 10 entrepreneurs incubated each year, for a total of 65 "paid entrepreneurs" in total until the end of 2020. In this way, the BEC support system is an example of an active policy for disadvantaged workers because it reduces the amount of undeclared work and helps people to stop being dependent on minimum social benefits, actually saving money for the Government (more than 60% of expenditures). Moreover, the choice to improve the business performance of disadvantaged people especially in rural areas, where the unemployment rates are very high, provides an increase in economic activity and helps maintain a social life in rural areas.
A specific project related to undeclared work is the program called "Roma Business Camp" for Roma communities and social workers working with them. The project aims to develop their entrepreneurship opportunities in the Czech-Republic, by supporting their transition from informal to formal workers.
BEC method at present time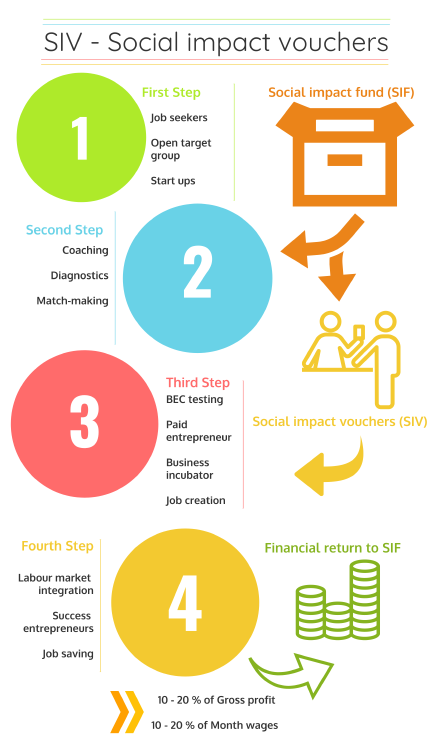 In the present time, CpKP is supporting this BEC model by implementing the Social Impact Vouchers (SIV) program in the Czech Republic, which is set up as employment vouchers that have a social impact on the labor market. The innovative voucher system brings together employee-seeking companies as well BEC cooperative providers and job-seeking disadvantaged people in a very simple way. The free and uncomplicated employment vouchers enable companies and applicants to get to know each other and test their ability to work together with the aim of securing permanent employment.
SIV is a new additional opportunity to test and hire exceptional and motivated employees and self-employees/ new entrepreneurs. For applicants with limitations (disadvantaged usually on the labor market), SIV offers an authentic platform to introduce themselves to companies with their strengths and weaknesses and to prove themselves in a probation phase.
The innovative vouchers will be financed by a INNOFUND endowment fund, which is set up as a social impact fund funded by private entities, crowdfunding and donations.
All applicants will be coached with the goal of preparing them for integration in the labor market without the pressure of state job brokers or job agencies, based on free of charge support in a testing phase with the help of a voucher. During this period, applicants will receive payment on a wage basis.
The system of the Social Impact Vouchers is currently presented and implemented on the website www.pracuj-podnikej.cz. 
More information about the INNOFUND endowment fund can be found on the website: www.innofund.cz. 
Source: MARTINELLI, Francesca. Platform cooperativism in Italy and in Europe. 2019.