Specific objective 4.2 
To improve coordination among freight transport stakeholders for increasing multimodal environmentally-friendly freight solutions.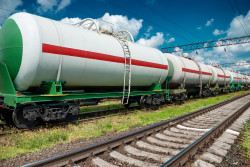 Transnational cooperation will improve coordination among existing services, provided by different modes of transport, creating intermodal systems of existing transport facilities, overcoming discontinuity across borders and the lack of infrastructure. Coordinated strategies, concepts and management tools will contribute to improving the multimodality of environmentally-friendly freight transport (e.g. rail, river or sea transport). Multi-modal platforms will be promoted and developed as a potential for consolidating and optimising freight flows. This will enhance the efficiency, reliability and quality of greener freight transport modes and services. Such a coordinated approach will pave the way for designing future infrastructure in a sustainable manner and a more effective transportation of goods to and across central European regions.

Additional information about this funding objective is available in the Interreg CENTRAL EUROPE Cooperation Programme.

OUR PROJECTS
First call
ChemMultimodal


Second call
TalkNET
TRANS TRITIA


Third call
COMODALCE
CORCAP
InterGreen-Nodes
REIF