THe Sloping Elevator in Cuneo, Italy

The energy efficiency works for the sloping elevator include:
A newly built underground technical room, located next to the existing uphill station;
A photovoltaic field with a peak power of about 8 kWp, consisting of 26 monocrystalline silicon
modules placed on metal frames along the runway of the elevator, near the retaining wall of the
installation;
A lithium-iron-phosphate battery storage system combined with a three-phase inverter that allows
the exchange of energy between the photovoltaic field, the national grid and the plant, which in
turn self-produces energy during its operation;
The integration of the new electrical equipment into the existing system and its interconnection
to the grid.

Works were carried out on the elevator for about four months. The only actual challenge was due to the timing for the delivery of the materials and components required for the electrical installations, which took almost two months and caused an interruption in the work of about three weeks. In a chronological order, works have been carried out as follows: the underground technical room with the installation of electrical panels and of the battery storage system, the installation and connection of the photovoltaic field, the completion of the technical room with an internal staircase and a metal roofing frame.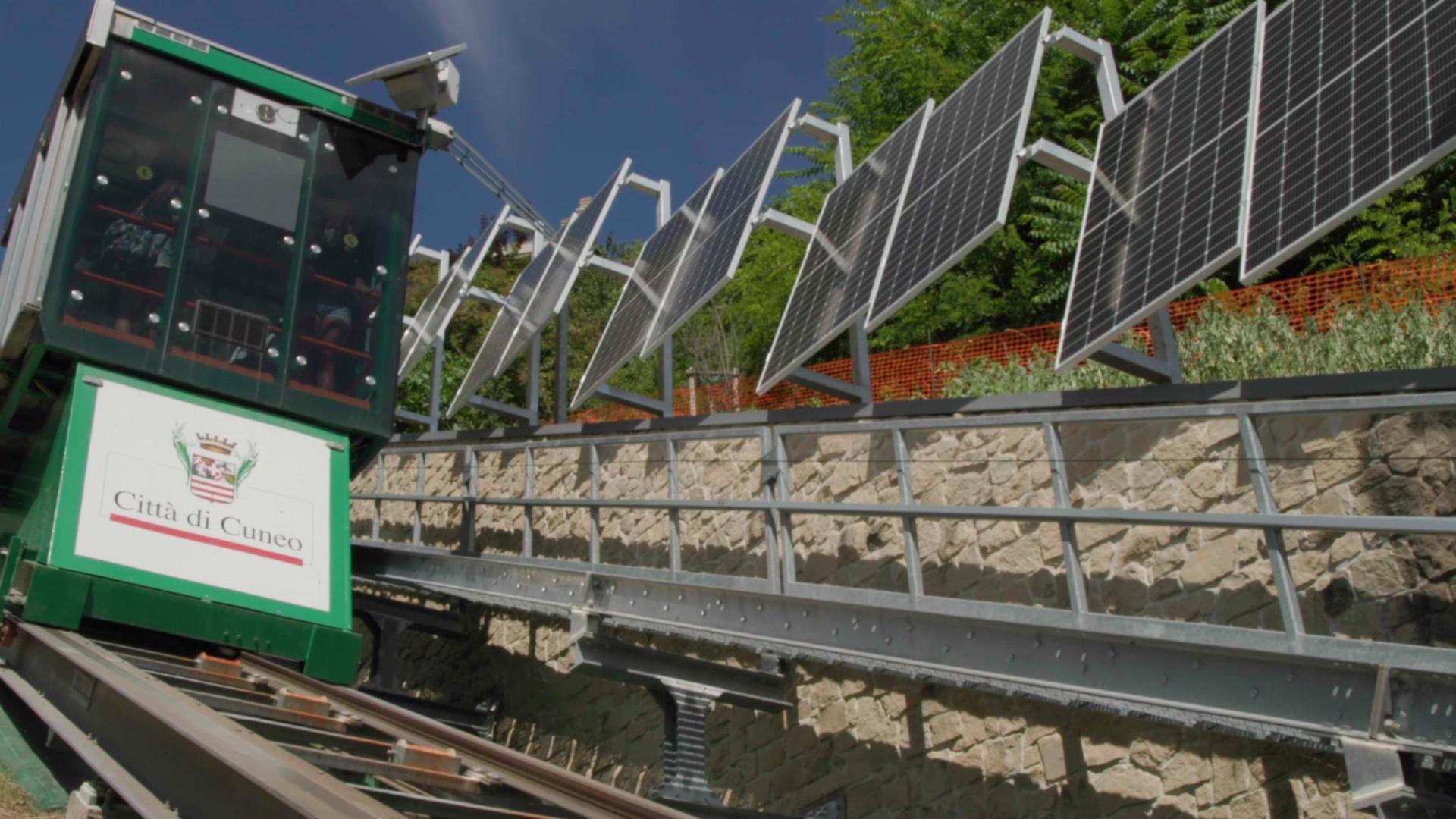 The next step after the completion of the works was to carry out the practices for the qualification of the photovoltaic field and the authorization for the on-site energy exchange designed to improve efficiency and reduce the costs for the energy supply from the national grid. This application procedure took quite a long time and, although it was initiated well in advance with the necessary paperwork being prepared in mid-July 2021, it was completed by mid-October 2021. Once the use of energy from the photovoltaic modules was authorized, the system went into operation.
The integration of the new system for power self-generation from the photovoltaic field required the support of the experts. This particular procedure, outsourced to Studio di Ingegneria Brignone from Cuneo, took several months. In addition, an internet connection was installed for the download of the monitoring data collected by the system. Also this operation, carried out by the Data Processing Sector of the Municipality of Cuneo, was rather time consuming due to the summer holiday season that slowed down the operations.
If you're interested in a more detailed look, click here to read the full report