Study Trips finished
During the pilot phase partners invited key stakeholders and transport-policy decision-makers to participate in study-trips to learn first-hand about the pilots taking place in other partner territories. Ten study trips were organised in total. The most visited pilot locations were Modena in Italy and Osterburg in Germany. Both pilot projects have been testing innovative solutions for public transport in rural areas, however with different approach. While pilot project in Germany has strong social context, Italian one uses the latest IT tools. In Saxony-Anhalt region the new regular bus service to connect the rural areas around Osterburg and Möser with the main towns was establish. Those towns are surrounded by rural area with an ageing population. The growth of older people who need mobility and transportation services is presenting significant challenges to individuals, families, transportation providers, and policy makers. TheMinistry of Regional Development and Transport of Saxony-Anhalt together with its in-house transport agency NASA introduced a new bus service operating according to the demand of residents. The degree to which seniors have access to services heavily depends on the capabilities of local providers. Transportation solutions for older people require a holistic and modern approach. "Bürgerbus Lommatzscher Pflege" service is addressing these needs. Scheme is run by the help of drivers – volunteers from local community. Wheelchair accessible minibuses are better serving people with physical or cognitive limitations. Project also raised awareness for public transport in general. Furthermore both towns benefited from a stronger social cohesion as the drivers usually were well known in their communities and although older adults are the primary beneficiaries of the service, they also are important contributors as drivers.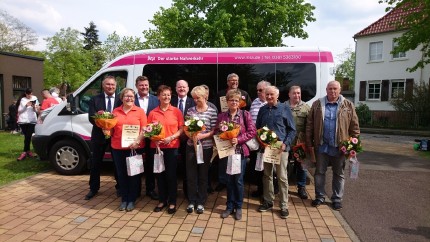 Agency for mobility and local public transport Modena S.p.A. introduced a specific software to better direct on-demand bus services to customer needs in the region of Modena. DRT services are very useful for the rural areas with a low density of inhabitants. New IT solution allows, that service information is accessed by users – passengers in real time through a dedicated web portal, sending them information via email or SMS and also via a smartphone application. Information is also automatically transmitted on a tablet to the bus drivers updated in real time. Also procedures to upload all data recorded by the call centre to a dedicated database were developed. Using a reporting tool, it is now possible to have more detailed information on service. The increase of travellers registered after the activation of the new tool in October 2017 was significant and exceeded expectations providing valuable information to be used for the definition of the RUMOBIL strategy.