CSHUB in Krakow
As part of the main objectives of the TASKFORCOME project, we have launched the first Community Social HUB in Poland, which is located in Krakow at the premises of the project partner TCF HUB Sports and Integration Centre.
CSHUB Kraków was organised in close cooperation with project partners from Poland: Cracow University of Economics, Małopolska Voivodship Office for Foreigners and TCF HUB. But the stakeholders who managed to get involved in the creation of this great place have an extremely important role to play here.These are various non-governmental organisations, chambers of commerce, social enterprises, offices and influencers that come into contact with immigrants running businesses in Poland in their daily work.
The Krakow HUB is primarily intended to serve as a support point for the entrepreneurial initiatives of foreigners living and working in Małopolska. Various training courses on running a business, individual consultations, mentoring, integration meetings, networking and coworking - will become the main instruments that allow to contribute to the development of economic innovations aimed at the benefit of immigrants in our country.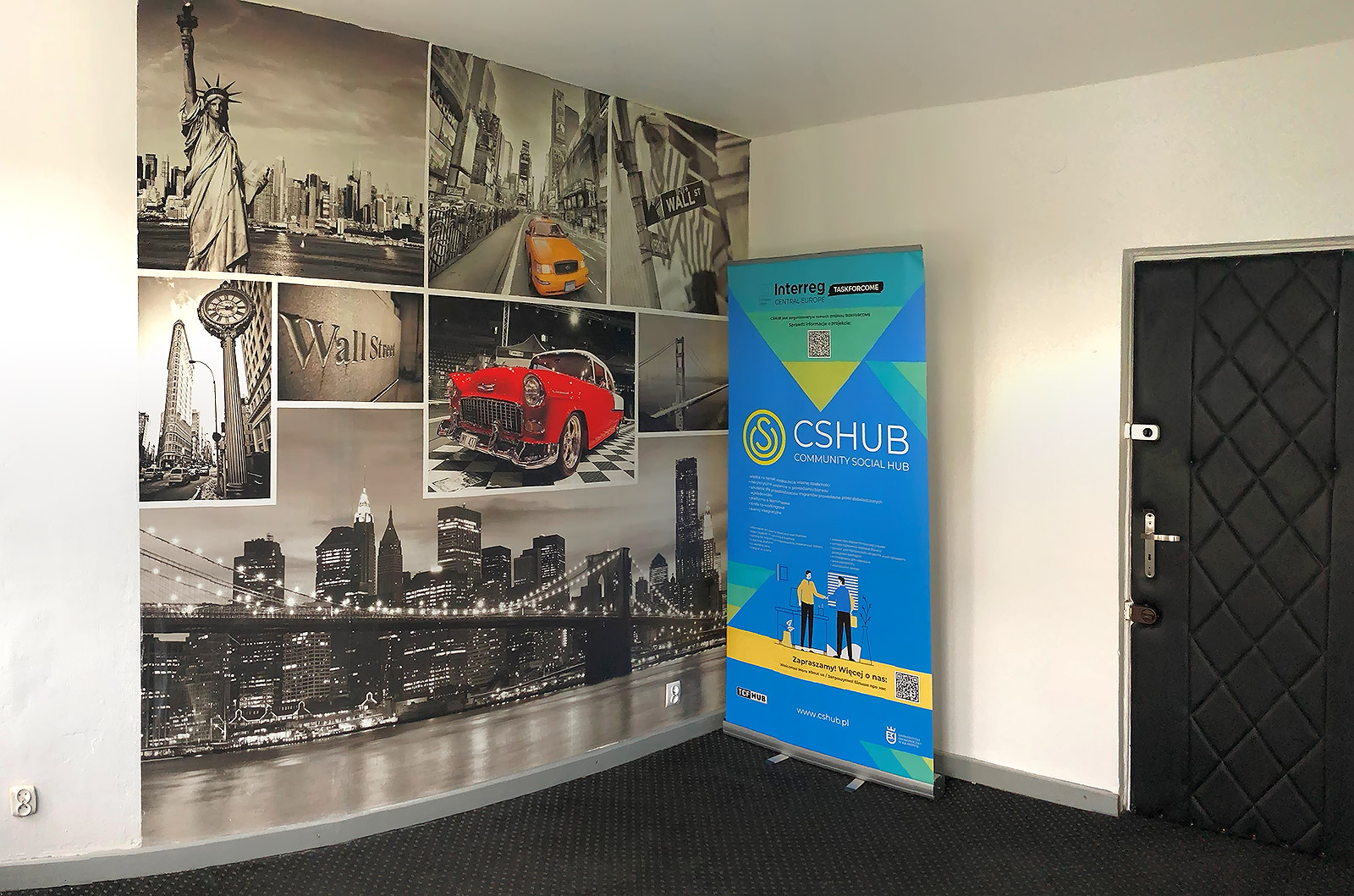 On the other hand, CSHUB is a platform connecting the local ecosystem of immigrant entrepreneurship, which includes companies, NGOs, Offices, Chambers, Foundations and other entities working with foreigners. The involvement of a large number of stakeholders in our ecosystem will allow us to develop concrete proposals for public policies to drive social innovation and facilitate the stay of foreigners in Poland.
The first stage in the creation of our CSHUB was the preparation of training materials addressed to people running / planning their own business. The team of experts created a dedicated course consisting of trainings and an e-learning platform. The free course consisting of 80 hours of lectures and online study is designed to answer all doubts related to running a business in Poland.
At the second stage of creating our HUB we renovated two coworking rooms, where from this moment each foreigner can work in comfortable environment and exchange ideas with other CSHUB participants.
The third stage will be to start a series of classes in October 2020 based on previously prepared educational materials and an e-learning platform. The training course "Business initiative management" is designed for immigrants interested in running a business or already running a company, or for immigrants interested in setting up a social enterprise. The training is also intended for all organisations and people who come into contact with immigrants in their daily work, especially those running a business. Upon completion of such training, each organisation will have access to training materials which it can use for free for its own purposes in the future. 
Welcome to our HUB in Krakow!