Do you want to start your own company in Krakow? We will be happy to help you with this!
At the Entrepreneur Service Point (POP) at ul. Wielicka 28a in Krakow, a new advisory position for foreigners has been created!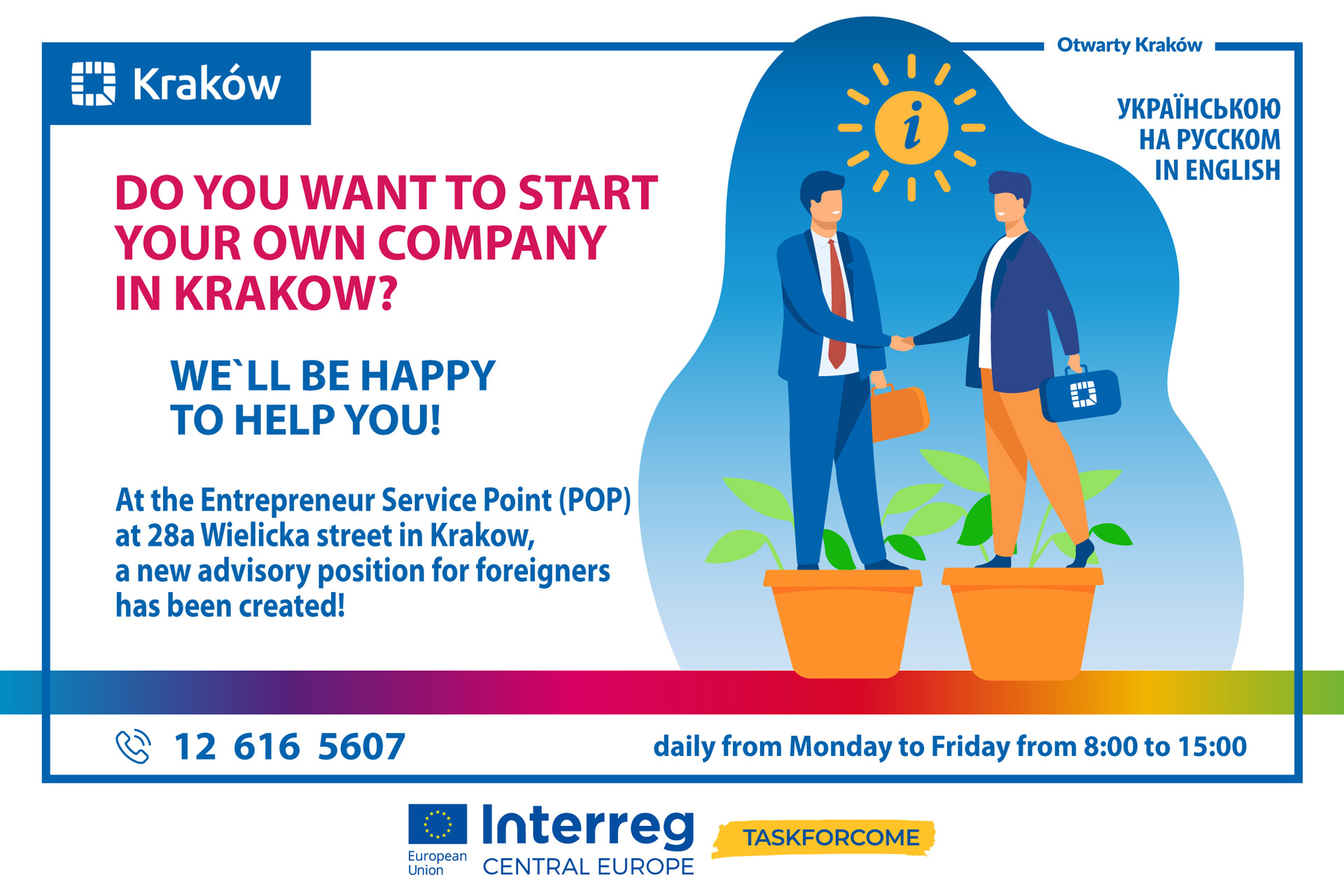 The entrepreneurship consultant will provide information in Russian, Ukrainian and English (directly at the service point and via electronic messaging).
We are waiting for you from Monday to Friday from 8:00 to 15:00. We are also happy to answer your questions over the phone. Our number is 12 616-5607.
An advisory position for foreigners at POP provides services in the following areas:
setting up a business and choosing the type of business (sole proprietorship, partnership, etc.)
information on obligations related to establishing or running a business, including advice on the use of the codes of the Polish Classification of Activities (PKD 2007)
confirming the Trusted Profile of ePUAP (www.pz.gov.pl) - Electronic Queue Registration
information on financial support for entrepreneurs, including the scope of assistance for entrepreneurs in connection with the negative economic and social consequences of the COVID-19 epidemic
information on administrative procedures for entrepreneurs implemented by the Krakow City Hall and some municipal organizational units
The advisory position for foreigners was created on the initiative of the Department of Social Policy and Health (#Open Krakow) in cooperation with the Department of Entrepreneurship and Innovation (#POP) and the University of Economics in Krakow.
The above activities are the result of the implementation of the project called TASKFORCOME (https://www.interreg-central.eu/Content.Node/TASKFORCOME.html), led by the University of Economics in Krakow. Twelve partners from five countries (Poland, Austria, Croatia, Italy and Germany) take part in the project.
The main objective of the Taskforcome project is to develop local action plans and a transnational plan to support migrants and social entrepreneurship as a channel for social innovation. The newly created advisory position at the Entrepreneur Service Point aims to both create better conditions for the development of entrepreneurship, as well as create opportunities for innovation and socio-economic development in the regions of Central Europe.
At the same time, as part of the TASKFORCOME project, a mobile migrant-entrepreneur service point (CSHUB) is being created in Krakow, where services in the field of:
mentoring and business consulting for foreigners
support in applying for EU subsidies and grants
support in the field of social entrepreneurship
The CSHUB service point will be located on the campus of the University of Economics in Krakow at 27 Rakowicka Street. We will inform about the opening of the point in a separate announcement. 
<div style="padding:56.25% 0 0 0;position:relative;"><iframe src="https://player.vimeo.com/video/711192759?h=41920eaa23&amp;badge=0&amp;autopause=0&amp;player_id=0&amp;app_id=58479" frameborder="0" allow="autoplay; fullscreen; picture-in-picture" allowfullscreen style="position:absolute;top:0;left:0;width:100%;height:100%;" title="SPOT_UMK_ONLINE_EN"></iframe></div><script src="https://player.vimeo.com/api/player.js"></script>