VAS COUNTY PILOT
Industry 4.0 implementation with establishing a Digital Innovation Hub
Thematic field: Science and Technology
PILOT DESCRIPTION
PBN's pilot in Vas County is an answer to nowadays challenges. With establishing am-LAB as a Digital Innovation Hub officially approved by the European Union, a ton of opportunities opened up to exploit and the whole region could profit from the activities of the organization.
With the application of a 3D scanner, multiple 3D printers, a drone, an AMR (Autonomous Mobile Robot), a robotic arm and so on, am-LAB could contribute heavily in a lot of innovation processes to make them successful.
The key is the process digitization for the organization, not bulk manufacturing. Co-operating with SMEs, am-LAB could help them make their manufacturing processes more profitable and effective with built in sensors 3D printed into different devices. Also services can be attached to certain products based on the data coming in from sensors.

THE ROLE OF END-USERS IN PILOT DEVELOPMENT
URBAN INNO is helping am-LAB to recognize and gather users' needs co-operating with general public, SME representatives/leaders and the local pupil community via participatory method events. With having that knowledge, the product development and prototyping of goods could be right on track to meet with users' expectations from the very beginning of the process.
PBN and am-LAB applied three participatory methods to reach end-users and involve them to the I4.0 implementation in the region.
Vision Factory series was concentrating on building a future vision with the various opinions of different target groups.
With conducting a Design Thinking method series, end-users had the chance to express their needs in the field of product development.
A Motivational Video Pitch was also created to invite potential partners co-operate with am-LAB, check it out here.
MAIN STAKEHOLDERS INVOLVED 
Local citizens, local business sector, local municipality and national ministry.
PERSPECTIVES
The most important comprehensive aim of Vas County pilot is to keep up the level of modern technologies as they are advancing fast all around the world.
However, with striving to achieve this general purpose, in the meantime, it results in achievements that can be experienced in a lot of different fields:
Groups of the local pupil community are attending am-LAB permanently to get an insight into the technologies they are working with – am-LAB offers a future picture to them, their career expectations could improve;
Students are working in am-LAB – their fresh minds are added values welcome in innovation processes;
SMEs are coming to am-LAB for participating trainings – they are looking for areas to co-operate and improve their manufacturing processes;
Local other actors, like the leaders of the urban innovation processes in the city also came to am-LAB to find common points to possibly work together in.
The lack of appropriate workforce pulls back the region for long years now and am-LAB really intends to contribute to solve this problem. It is a structured idea that starts from the basics and reaching the local community as early as possible to provide youngsters the needed knowledge and motivation. The impact could be that they are going be engaged to work with the technologies presented and later fulfill the requirements of working positions in need, with which they will solve the main problem and raise the county's standards. SMEs are going to produce with higher quality and faster and they could use the professional knowledge of the next generations mentioned earlier here.
As it can be seen, only an open-minded mentality is necessary from the side of relevant actors to make the county and am-LAB successful in the field of digitization. They should not fear from the innovative perspectives offered by the Industry 4.0 achievements that am-LAB puts into practice and move on from the outdated techniques and fields.
PARTICIPATORY METHODS
Vision factory 
What is the first thing you need, especially if you are about to implement something brand new in your region? Of course, it is a plan. PBN's and Am-LAB's co-workers attended many-many technology exhibitions and workshops to gather as many experiences and know-how as possible, but this knowledge should be well used and distributed to produce tangible and useful results.
Here came the vision factory method in the scope, in which PBN organized multiple events with the invitation of all sides of end-users from the quadruple helix to get to know their opinions about this whole initiative and to found out their everyday needs.
Since vision factory is all about creating feasible and sustainable future plans, it was hardly built not only around engineers and SME representatives, but the involvement of a lot of students, who could profit the most about this knowledge and will make innovation happen in practice.
Vision factory was originally supposed to give you a long-term plan that could be used for 5-10 years, taking into account the innovative nature of this field, only the direction of the next 1-3 years could be covered with it. Bulk manufacturing will not be the main profile of Am-LAB, but to develop the custom designed products that Am-LAB's co-workers and participants found out together. 

| | | | |
| --- | --- | --- | --- |
| Method | Vision factory | Project-in-a-day (not finished yet) | Motivational video pitch |
| Number of events | 5 | 3 | 1 |
| Number of participants | 58 | 14 | 15-20 |
| Time frame | 10 months | 6 months | around a month |
Project-in-a-day
Once that basis was settled then arrived the part, when the way of the realization of products happened. PBN choose this method, because it fits the best for supporting prototyping processes.
In this phase, the involvement of even more engineers seemed to be occasional, so PBN and Am-LAB did so. However, to keep the fluent and permanent co-operation of end-users all the way down of the process, general citizens and other end-user representatives were still involved.
This phase has not ended so far, because Am-LAB is going to hold 40 mentoring sessions in the 6th period of URBAN INNO for SME's that could co-operate with the institution in further product developments.
The results of these sessions are going to be added along the next period.
Motivational video pitch
The next part in the logical sequence was to create a motivational video that encourages all types of interested end-users to contact with Am-LAB in hope of a possible collaboration.
After discussing the details based on the previous methods, this video was prepared for engaging end-users.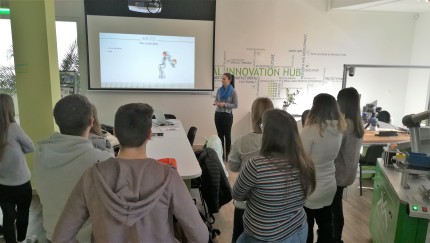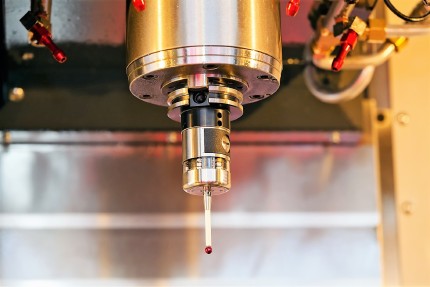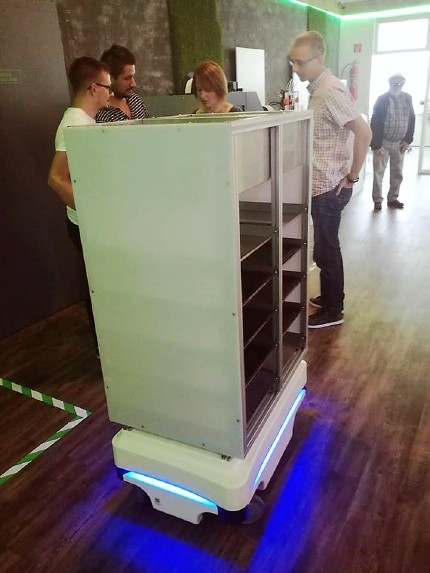 MORE ON VAS COUNTY PILOT

VAS COUNTY PILOT: I4.0 is advancing in Hungary supported by Am-LAB