21st meeting of the working group "preservation of historical monuments" regarding the World Cultural Heritage  "Mining region Erzgebirge/ Krušnohoří" in Dippoldiswalde
This working group supervising the current UNESCO nomination consists of representatives of the monument preservation offices in the Erzgebirge region and State Conservation Office.

After a brief introduction concerning the current status of the application procedure for the planned World Cultural Heritage  "Mining region Erzgebirge/ Krušnohoří" headed by the institute of Industrial Archaeology, History of Science and Technology of the TU Freiberg, current developments regarding the state of preservation and the topic mining were presented.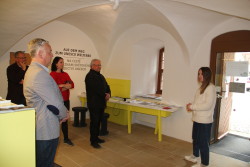 Following this, Dr. Christiane Hemker, representative of the Archaeological Heritage Office in Saxony, invited the attendees to the MiBERZ. Since august 2018, a World Heritage information point is located inside the entrance hall of the museum, which offers visitors insights into the application process of the high medieval mines for the UNESCO Cultural Heritage.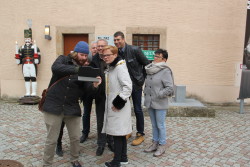 After a guided tour, the mining educational train, emerged in 2018 and another opportunity for communication and preservation of the archaeological cultural heritage in the town of Dippoldiswalde, was explained. From autumn 2019 on, these diverse offers will be digitally and three dimensionally accompanied by an application, which was developed as part of the project "VirtualArch". By scanning specific markers via a mobile device, you can enter a medieval mine and explore the unique world below ground.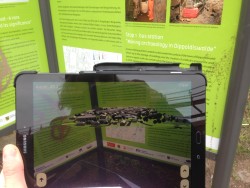 Klick here for a preview video of the AR App.