The medieval silver mines of Dippoldiswalde, Saxony (DE)

Located 18 km south of present-day Dresden in the eastern Ore Mountains, Dippoldiswalde was founded by the burgraves of Dohna as forest village in the second half of the 12th century. The historical sources about medieval mining are rare and their location within the town fell into oblivion over the centuries. The situation changed when in 2008 the Saxon Upper Mining Authority found old but well preserved wooden finds in discovered mines. Following rescue excavations undertaken by the Archaeological Heritage Office of Saxony in the mines resulted in unearthing of remarkable features and artefacts of the High Middle Ages. The mining complex has been recorded just beneath the current town with an average depth of 8-26 meters, the exact size and depth of the complex however remains unveiled. The finds in Dippoldiswalde introduced completely new preconditions for medieval mining research and presentation and are examples for the importance of medieval mining activities facilitating the economical and political development of the Margraviate of Meissen and later Electoral Saxony between the 11th and 17th centuries. Because of its uniqueness and great importance, Dippoldiswalde silver mines became a part of the UNESCO world heritage nomination of the Ore Mountain Mining Landscape.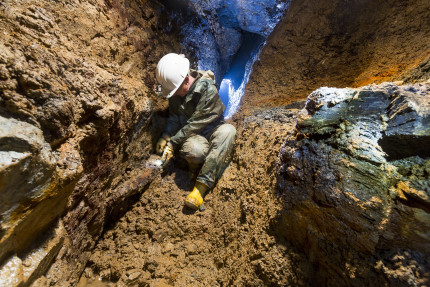 THREATS AND OPPORTUNITIES
Despite of the great importance and the fact, that the mines are well preserved, they have to remain filled up and sealed as a matter of public security. Mining complexes extend over large parts of the town; they are endangered by public and private construction works conducted in the city.
PLANNED PROSPECTION / VISUALISATION ACTIVITIES
In the process of visualizing of the pilot site, collected data, such as scanned wooden finds or wire frame models augmented by 3D-models in particular cases and areas, will be used. It is foreseen to create a complete plan work of the medieval mines and transform this data for virtual tours through the mines. One of the planned achievements is also introducing information points in the town of Dippoldiswalde with virtual information about findings and underground mines.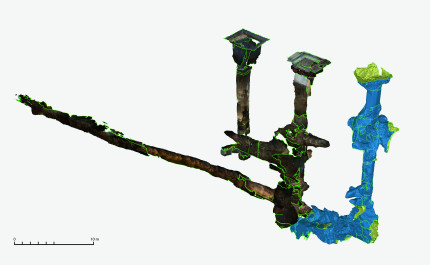 STAKEHOLDERS INVOLVED IN THE PROJECT
The mining heritage offers chances for tourism development, cultural participation and regional identity. The outcomes of the visualization of the pilot site will be used for raising the awareness and mediating conflicts occurring between different stakeholders and therefore will contribute to its protection. In the project implementation an active participation of great number of stakeholders from different fields of activities, like tourism, forestry, mining, flood management and agriculture is foreseen. The experiences will be regularly shared with leading authorities for archaeological heritage from other German federal states. The institutions like State Reservoir Administration of Saxony - Works Upper Elbe valley, Saxon Upper Mining Authority, Public enterprise Forest Administration Saxony, Federal Ministry of Transport and Digital Infrastructure, Saxon State Ministry of the Interior will play a significant role in the project realization.
REGIONAL STRATEGY
Klick here for the planned regional strategy (after project ending).