COMMUNICATION ACTIVITIES

GOALS
The main goal of WP Communication is to raise awareness about BhENEFIT project, its outputs and Thematic Working Packs, in order to provide knowledge, sharing valuable informations and successfully manage relationships amongst all partners, stakeholders and key audiences.
TARGETS
Main targets for WP Communication are local authorities, regional public authorities, sectoral agencies, infrastructure and service providers, local interest groups (such as cultural associations, citizens committees and civic society associations), professional organizations SME and citizens invested in the project. 
ACTIVITIES

PUBLICATIONS
Newsletter
BhENEFIT newsletters are sent every 6 months to project partners and mailing list subscribers, aiming to inform the stakeholder and the public about project's progress and achievements.

❖ I° Newsletter - December 2017
❖ II° Newsletter - May 2018
❖ III° Newsletter - November 2018
❖ IV° Newsletter - June 2019



Scientific articles
BhENEFIT Project aims to the publication of scientific articles related to GIS and BIM innovative deployments.
Below, you can find the published articles written in the project context:

❖ FREGNI Maria Cristina, CORSINI Daniela - Bhenefit: gestione centri storici, Un progetto europeo per la gestione sostenibile dei centri storici attraverso sistemi GIS - Urbanistica Tre, 2018 [Italian]
❖ FREGNI Maria Cristina, CORSINI Daniela - Governare la complessità dei centri storici - City Life Magazine, 2018 [Italian] 
❖ FREGNI Maria Cristina,  CORSINI Daniela - Centri storici, rischio idrogeologico e GIS (Historic Urban Areas, hydrogeological risk and GIS) - Geologia dell'Ambiente, SIGEA, 2018 [Italian]
❖ FREGNI Maria Cristina, CORSINI Daniela - La trasformazione ambientale dei centri storici indebolisce l'immagine della città? - Proceedings of the Scientific Seminar "L'immagine della città_03", 2018 [Italian]
❖ FREGNI Maria Cristina, MAGNANI Marco - Governare la complessità - il BIM per il Patrimonio Costruito - City Life Magazine, 2018 [Italian]
❖ ONDREJICKA Vladimir, FINKA Maros, SPACIR Marian, HUSAR Milan, BALOGA Martin - Integrated GIS Monitoring Systems for Sustainable Spatial Management in Historical Built Areas - IOP Science, 2018 [English]





Leaflet and Brochures
Thematic Brochure contains Project Key Outputs for communication, and are distributed during target events.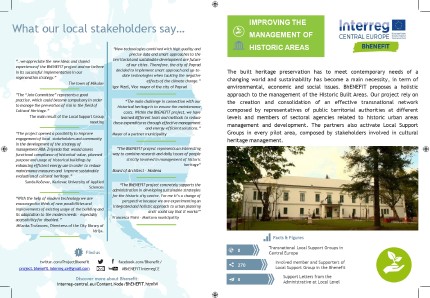 Project infographics
Infographics are displayed at LP/PP premises and cointain general informations about BhENEFIT Project.
PUBLIC EVENTS
Mid term and final Conferences
The mid term conference and final conference are events organized in order to present project achievements and results, while networking with stakeholders and raise awareness about project's activities.
Infodays
Infodays are organized to disseminate soft facts and light stories to European Policy Makers, to extend the territorial support to the Strategy.
Contribution to multipliers conference
In order to disseminate and present Project Key outputs to external networks, partners participate to external public seminars or conferences.


TARGET EVENTS
ICT Workshops
Technical workshops are organized to present developed tools to GIS expert, in order to raise awareness, increase knowledge and influence their professional behaviour.
Guideline Workshops
Guideline Workshops are organized to present the integrated approach and its possible implementations to external network of stakeholders, as administrators, design technicians and entrepreneurs. 

DIGITAL ACTIVITIES
Social networks and media
BhENEFIT use Social media (Facebook, YouTube and Twitter) to dissiminate contents and information about the project, keeping people updated on progresses in a simple tone. 
Project Chronicles
Project Chronicles are short videos which show project's progresses and steps by interviewing activities' participants, showing data and presentation of next steps.  

Pilot Project Videos
Pilot Project videos are realized and shared via YouTube channel and events to explain with simple and non-technical language the process to test developed tools and their results. 

Best Practice Video
Based on best practice analysis, a Best Practice Video was realized and shared via YouTube channel and events with the purpose to explain with non-technical language the site visits and data analysis of best practices.
PROMOTIONAL MATERIAL
Cotton Bags and customized pens
Customized materials are used to promote the project on public conferences and targeted events.