Award Ceremony of the Contest "Traditional Boating in Veneto: Crafts and Waterways"
On Friday 30 November 2018 by the Veneto Region stand at the Job&Orienta fair in Verona, the major Italian exhibition in orientation, education, training and work. the Award Ceremony of the Contest  "Traditional Boating in Veneto: Crafts and Waterways"  - developed and promoted by Veneto Region Tourism Department in collaboration with PP8 Centro Internazionale Civiltà dell'Acqua and CISET - was held.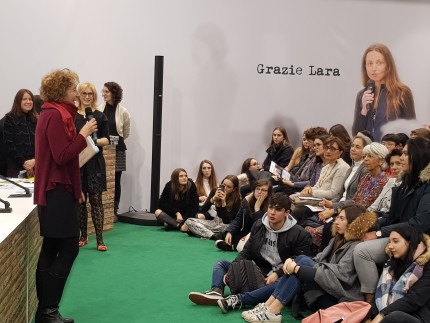 The challenging competition, which involved 17 classes of 9 High Schools on Tourism of the Veneto region, was specifically tailor-made on the themes of YouInHerit and involved  the students into activities of rediscovery of the traditional boating, typical of the river-lagoon area of Veneto, with the double aim to boost their curiosity and provide them with all the necessary information to evaluate a professional career, an occasion of amusement or a sport opportunity in this context, increasing at the same time a little bit more their knowledge about venetian traditional boating. The development of the subject had to be carried out through the creation of a multimedia storytelling with the support of videos and/or pictures.
The colorful ceremony, cheered by the enthusiasm of the young protagonists to whom it was dedicated, was preceded by a brief seminar held by Centro Internazionale Civiltà dell'Acqua  together with two project stakeholders – Limosa Slow Venice, sponsor of one of the prizes awarded, and the Museum of River Navigation of Battaglia Terme, that kindly provided the nice backpacks distributed to some of the students during the entertainment phase.
Six prizes were awarded, consisting of tourist experiences related to the chosen themes, to be used with the whole class, as well as a seminar event organized by CISET and Centro Internazionale Civiltà dell'Acqua, later extended to all 17 participating classes .
A day to remember, full of love for traditions and new looks on the territory, which will be shared with you over the next few months through the release of the winning works on YIH web site and social media…stay tuned!