Modena launches weekend night taxi-bus
A new experimental public transport service started on the 10th of December 2021, implemented by the Modena Mobility Agency - aMo, connecting Modena outskirts with the city center.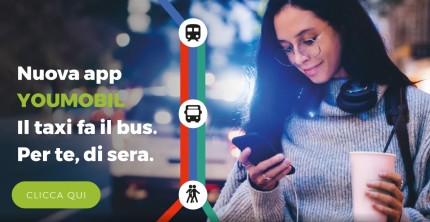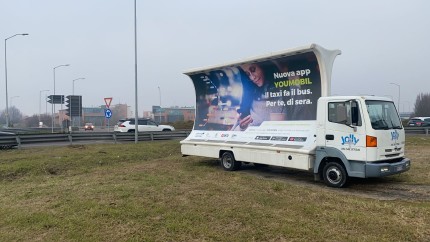 Modena started experimenting with a new public transport service to connect the outskirts to the city center and to the railway transport network. Starting from 10th of December, on Friday and Saturday evenings, from 9pm to 1am, the peripheral parts of Cognento, Ganaceto, Baggiovara, Lesignana, Villanova, Albareto, San Damaso, Portile, Paganine, Novigrad and Marzaglia will be served by an accessible scheduled taxi service, exclusively by booking via YOUMOBIL app.
The service is managed by Seta, the sole manager of the local public transport service in Modena, and entrusted, like the other services of taxi-bus, to the Consortium of Modenese taxi drivers Co.Ta.Mo. It is intended for both Seta subscribers (with a more advantageous rate) and non-subscribers.
Taxis will have a predetermined route, on three lines:
Blue Line (Ganaceto-Lesignana-Villanova-Albareto-Railway Station-Bus Station-square Matteotti)
Red Line (Marzaglia-Cittanova-Cognento-Baggiovara-piazza Matteotti-Autostazione – Stazione FS)
Green Line (Portile-Paganine-San Donnino San Damaso-piazza Matteotti-Autostazione-Stazione FS).
The stops are marked by dedicated signs.
In this experimental phase, the service is divided into two trips per line from the outskirts towards the center, at 9pm and 12pm, and a return ride to the peripheral parts at 11.30pm. Any subsequent returns can be made with the night taxi-bus service.
The fares range from a minimum of 3 euros one way or 5 euros return (for a SETA subscriber under 27) up to a maximum of 4 euros one way and 7 euros return. Both the booking of the rides and the payment are possible through the YOUMOBIL app.
At the end of the experimental period of few months as part of the YOUMOBIL project, the continuation of the initiative will be evaluated based on the results obtained.
More details about the service are available on www.youmobil-modena.eu