Best practice workshop in Villach, Austria
On 18th and 19th of April 2018, our first transnational workshop took place in Villach (Austria), to get in contact with other peripheral cross-border regions with good solutions in public passenger services and to learn of similar concepts in Central Europe regions.
To begin of the workshop session, we discussed with regional stakeholders and experts trends and themes related to cross-border public transport in general. Mr. Roland Fercher of the Transport Association Carinthia presented as a best practice example the cross-border train connection between Austria and Italy, the MICOTRA.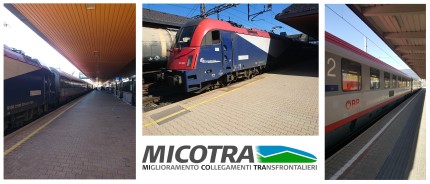 The regions of Carinthia and Friuli were faced with the problem, that the last regional cross-border rail service was discontinued in 2009. Within the framework of the INTERREG IV A Italy – Austria 2007 – 2013 project MICOTRA (MIGLIORAMENTO COLLEGAMENTI TRANSFRONTALIERI - Improvement of cross-border traffic) a joint planned cross-border test railway connection with two pairs of trains per day and a simple tariff structure has been created.
The objectives of the EU project MICOTRA was to achieve a general improvement in cross-border transport links to shift traffic from road to rail and cooperation between the relevant Austrian and Italian institutions and services and to increase the economic and neighborhood development of the regions involved.
All trains stop in Villach Westbahnhof, Villach Warmbad (right in front of the new Kärnten Therme), Arnoldstein, Thörl-Maglern, Tarvis, Ugovizza, Pontebba, Carnia, Venzone and Gemona. One trip Villach to Udine and back costs 26 Euro. The overall tariff system is simple and transparent. Tickets can also be bought on the train at no extra charge.
Roland Fercher explained in particular the challenges involved with setting up the test connection and how these obstacles were overcome. Overall, three main problems had been identified:
operational barriers (different voltage, employee training and language as well as operational regulations and standards)
safety issues (emergency management, risk analyses and safety certificates, in particular through operation in tunnels)
technical requirements (side-selective door control, vehicle schedule and maintenance intervals)
Each train offers two compartments for up to 150 passenger. An additional wagon is intended for use on bicycles or during the winter season for ski transport. The MICOTRA had his maiden voyage on 15th of June 2012. Since then, the number of passengers has increased to around 85,500 in 2017.
What makes the project so outstanding is the effort that was made for the marketing. Even before the first trip, the train and its attractions along the route were intensively promoted. The publications were made in German for Carinthian customers and in Italian for users from the Friuli region. Following the start of operations, the marketing activities continued continuously, for example with publications in magazines and newspapers. In order to address tourists in particular, timetables with the excursion destinations along the railway line have been developed. In addition to newspaper articles, they developed also radio spots and videos for trade fairs and cinemas. 
The workshop rounded out a full day excursion on the following day. Together with regional stakeholder, we drove with the MICOTRA-train from Villach to Udine and back. The practical examples underpinned the theoretical impressions, gained on the previous day. Especially with regard to adaptation to other model regions, further problems could be identified and discussed.