digitalLIFE4CE: Project Partner team met up at Kick Off Meeting in Pinkafeld (AT)
It was a sunny day in July when the partners of digitalLIFE4CE met for the very first time in person. Project Leaders Peter J. Mayer and Alexandra Weghofer invited the project team to the University of Applied Sciences Burgenland (FHB) not only to get to know eachother but also to dive directly into the project.
All partners presented their insititutions and their current activities. Furthermore, they explained how the health care systems are working in each region. Afterwards each region provided an analyse of the current fostering factors, barriers, risks and chances. All partners were informed by Peter J. Mayer (FHB) of the aims and tasks in the workpackage Management. Communication Leader Rebecca Winter (VFG) gave an overview of the work in workpackage Communication.
After laying the foundation for the working environment, Project Partners were pleased to welcome Joint Secretary Mirjana Dominovic from the Interreg Central Europe Joint Secretariat. Mirjana Dominovic gave a detailed Presentation about how to keep the audit trail and how to prepare content and financial reports. Furthermore, current questions were answered. All partners welcomed the breaks to get to know eachother and to talk about their upcoming work. Back to schedule all participants gained a deep insight into important activities, aims and challenges of each workpackage by Walter Schrittwieser (Mind Consult & Research GmbH) and Andrea Jester (Nero Su Bianco). At the end of the day the first steering committee meeting was held up with representatives of all project partners and head of advisory board. It was a succesfull start for digitalLIFE4CE.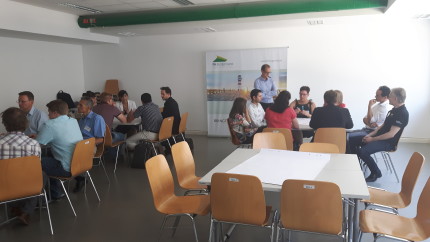 digitalLIFE4CE
digitalLIFE4CE is a project funded by Interreg Central Europe. Nine partners from seven countries work together and are looking for novel solutions in the field of digital integrated  healthcare systems. The fragmentation of the health care system as well as weak cooperation between relevant actors negatively affect regional authorities, care providers and citizens in many regions of central Europe. To answer these weaknesses, the project brings together policy makers, experts from research and development and actors relevant for implementation. Their goal is to make digital healthcare solution accessable for the citizens of Central Europe for providing the best healthcare on the market. The project is funded  from May 1st 2017 till October 31st 2019 and co-financed by ERDF with 1.274.752,00 Euro. It aims to implement additional projects in partner regions afterwards to maintain the goal of the project. digitalLIFE4CE project team consists of  University of Applied Sciences Burgenland (AT), Saxon State Ministry for Social Affairs and Consumer Protection (DE),  Association for Promoting the Healthcare Business in the Region of Leipzig e.V., Bruno Kessler Foundation (IT), Autonomous Province of Trento (IT), Technology Park Ljubljana Ltd. (SI), Pannon Business Network Association (HU), STEP RI Science and Technology Park of the University of Rijeka Ltd. (HR) and Wrocław Technology Park (PL). 
by Rebecca Winter