digitalLIFE4CE: 2nd Partner Meeting in Ljubljana
Ljubljana, 26th January 2018
On  23rd and 24th January 2018 DigitalLIFE4CE project partner TPLj – Technology Park Ljubljana, hosted 2nd Steering Committee Meeting & Advisory Board Meeting in Ljubljana, Slovenia.
The consortium discussed achievements so far and tasks to achieve future goals. The revision of relevant documents led to the development of Digital Healthcare Excellence Spots Transnational & Regional Action plans. Group workshop was carried out to further elaborate activities (learning activities, building up of alliances, hub activities) and to set the base for development of action plan for identified Alliances. All the partners pitched statements for the respective thematic Alliance identified throughout the project implementation:  Connected health & network building, Digitalisation for healthcare management, Digitalisation for health promotion and prevention, Digital Assistance in Healthcare Delivery, Monitoring & Analytics for population-wide healthcare trends, Technical & organisational infrastructure for integrated Digital Healthcare and as horizontal topic Data security and compliance. During the workshop working groups discussed further developed the statements, goals set and contribute to the finetuning of the action plans.  
We also had an Advisory Board Meeting with associate key stakeholders – representatives of Regionalmanagement Brugenland, Clinical Hospital Center Rijeka, Institute for Biostatistics and Medical Inofrmatics at University of Ljubljana Faculty of Medicine, Health Department of Lower Silesian Marshall Office and Provincia Autonomia di Trento, with who spoke about project results and achievements. High interest has been shown for live presentation of developed open innovation visualisation tool allowing easy navigation and matching among identified stakeholders, cases and solution providers from the field of digital healthcare. Live discussion was also on policy and market opportunities that exist within each thematic alliance and will be reflected during the planned mobility actions.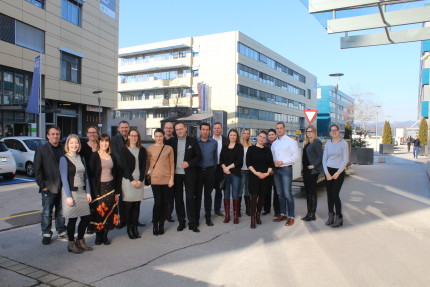 by Mojca Cvirn