digitalLIFE4CE introduced to Saxony's Leaders  in Healthcare
Leipzig, 3rd December 2017
VFG Leipzig e.V. presented project at Life Science Forum Saxony and 13th Forum of Leipzig's Healthcare Industry
This year VFG decided to combine their annual event, the Forum of Leipzig's Healthcare Industry, with the Life Science Forum Saxony.  On November 29th 2017 companies, doctors, health insurances, research institutes and investors came together in Leipzig to jointly pursue the question of how innovations from the life sciences industry will find their way more quickly from research to patients.
The aim of the event was to support the process of transforming new technologies into health care. Among the innovations presented and discussed at the forum are u. a. Nursing robots, rapid tests for the right therapy and home monitoring systems. Also framework conditions such as the financing of such new technologies, clinical daily routines and process innovations will play a central role.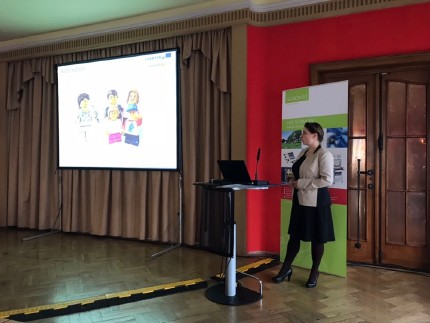 As partner of the event, Rebecca Winter (VFG) introduced digitalLIFE4CE to the audience. "The feedback afterwards for our project was great!", resumes the project manager. She animated her audience to participate in the project and also draw a connection to TITTAN, another InterregCE project.
The Life Sciences Forum Saxony 2017 was organized by the Saxony Economic Development Corporation (WFS) on behalf of the Saxon State Ministry for Economic Affairs, Labor and Transport (SMWA) in the Leipzig Park Palace Agra.
by VFG Leipzig e.V.