digitalLIFE4CE presented at XPOMET Convention in Leipzig (Germany)
XPOMET Convention was held from March 21 – 23, 2018 at the KONGRESSHALLE am Zoo Leipzig. It was the first and only event of its kind, combining interdisciplinary networking, high-profile keynotes, progressive projects and discussion impulses as well as innovative and interactive formats to create a three-day tribute to technology, progress and the further development of medicine. The Convention  aimed at all stakeholders in the healthcare sector, especially physicians, decision-makers in medical institutions, the protagonists of medical engineering, modern pharmacy, biotech, care professionals, and also students.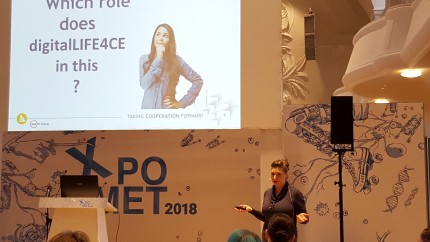 On March 22nd, the City of Leipzig presented the biosaxony panel at the Vision Market. Here Rebecca Winter from VFG (Association for Promotion of the healthcare industry in the Leipzig Region (VFG) e.V.) presented the digitalLIFE4CE project in front of digital healthcare experts and stakeholders. She called to experts to action getting involved in the digitalLIFE4CE project to bridge the gaps in the CE innovation network. Watch the full presentation at our YouTube Channel.
About XPOMET
The Convention consisted of an Innovation Congress on five stages, constructive think tanks, refreshing discussions formats, the Future Health Exhibition – with its by now over 15 showcases, such as the Patient's Room or the Doctor's Office of the Future – as well as various side events, the Startup Section and the Festival of Medicine. More than 40 experts and visionaries from the healthcare industry form the advisory board for the 12 segments of XPOMET©, for which more than 80 national and international top speakers as well as  1.500 medical professionals found their way to Leipzig.
by Rebecca Winter