210 cooperation ideas submitted in second call for proposals

Interreg CENTRAL EUROPE has received 210 applications by the time the second call for project proposals was closed on 24 June. Next, the eligibility of project proposals will be checked before the quality assessment starts. New transnational cooperation projects are expected to be selected by spring 2017 and will be funded with around 90 million Euro from the European Regional Development Fund (ERDF).

"We are pleased that the second call for proposals again attracted such huge interest in all nine programme countries," said Christiane Breznik from the Managing Authority hosted by the City of Vienna. "It shows that regions and cities in central Europe continue to see cooperation beyond borders as a valuable tool for addressing their shared challenges and needs."
Following the assessment, the best transnational project partnerships will start to cooperate closely to make their cities and regions better places to live and work. They will jointly test and implement new solutions for shared challenges - in the fields of innovation, low-carbon economy, environment, culture, and transport. 

The call in numbers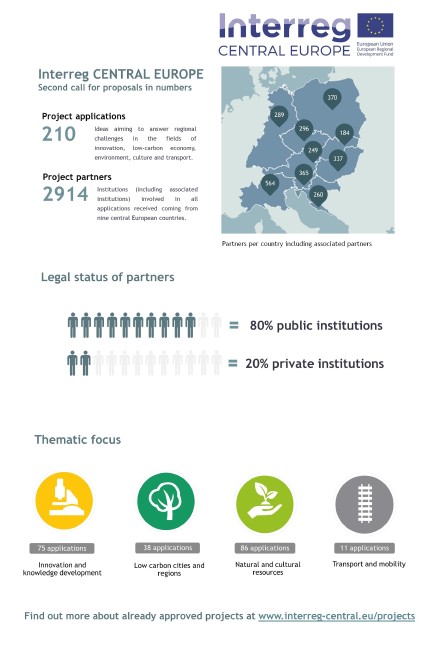 Every end is a new beginning

In parallel to the assessment of second call proposals, the programme will start preparing the third call for proposals. An indicative timeline is planned to be published soon. The co-financing rates available will remain the same: they are up to 85 percent depending on the country of origin of applicants. Whether cooperation ideas will be sought in all our funding priorities and specific objectives ultimately depends on the final results of the second call.

For more information, please check regularly our website at www.interreg-central.eu/apply.