Return of the wolf in Bohmerwald 
Return of the wolf in Bohmerwald confirmed by camera traps from 3Lynx project.
Camera traps, placed within the 3Lynx project by organization ALKA Wildlife, recorded for the first time in modern history the wolf near the city Netolice in south Bohemia. It is a solitary wolf walking on forest path. There is no proof of wolf couple or wolf pack.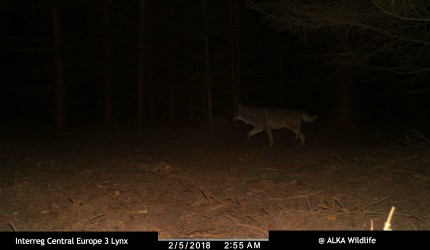 Wolf recorded in February 2018 near the city Netolice, source: project 3Lynx, Alka Wildlife
The occurrence of the wolf in Bohmerwald Mountains was documented for the first time in 2015, by camera trap placed at eastern edge of mountains near Loučovice. The last wolf on the Czech side of the Bohmerwald was shot in 1874 in Lipka u Vimerka. Since that time, the wolf observations were very rare and the proof of species occurrence missing.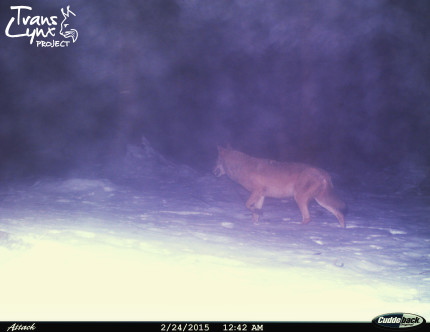 First wolf, recorded in Bohmerwald Mountains near the town Loučovice in February 2015, source: Trans-Lynx Projekt, ALKA Wildlife
The number of wolf observations from Bohmerwald began to increase after the year 2015, but there were always only lonely individuals. Wolf couple has been observed on both Czech and Bavarian side of Bohmerwald in spring 2017, two years after wolf near Loučovice. This pair has successfully reproduced and for the first time in modern history the wolf pack with three wolf cubs has been caught on camera trap from national park Bavorský les in July 2017.
Video of first Bomherwald wolf cubs

Source: Facebook of National Park Bayerischer Wald
In the years 2017 and 2018 number of Bohmerwald wolf records further increased and also first attacks on herds of sheep were documented. Šumava National Park administration, Nature Conservation Agency of the Czech Republic, both partners of the 3Lynx project, started to provide counseling to sheep breeders how to prevent damage caused by wolves (using electric fence and shepherd dogs seems to be the most effective solution so far), how to apply for a subsidy to buy such equipment, and how to apply for compensation for damages on farm animals caused by the wolves. More information at https://www.navratvlku.cz/
Modern spreading of the wolf in Bohmerwald region is caused primarily by positive development of neighboring wolf populations. Female from Bohmerwald couple comes from Lusatian population in Saxony see  http://www.wolf-sachsen.de/en/ 

and the male's origin is Alpine population, see
Due to very good migration skills of wolves, which can overcome even hundreds of kilometers long distances, the return of the wolf into Bohmerwald is not so surprising. Well-preserved nature with extensive forest areas and enough prey, provides ideal life conditions for this carnivore. Same as the lynx, the wolf is now returning to where he once lived and where he belongs.
Author: Tereza Mináriková, ALKA Wildlife