93 BUSINESS PLANS FOR INTANGIBLE CULTURAL HERITAGE PROJECTS

SUMMARY OF THE ARTISTIC PILOT ACTION NO 1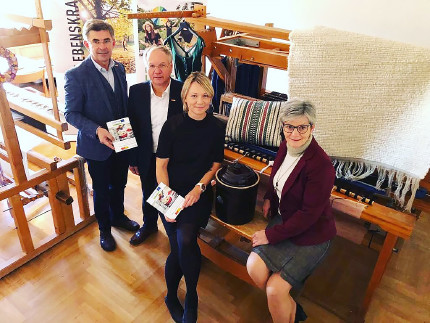 Diversity is the basic principle of Intangible Cultural Heritage. Preserving these different forms of expression and practices is a task for generations. Regions become what they are through living cultural expressions. This creates identity and strengthens the cohesion of groups and communities. Being aware of traditional knowledge and experience-based skills, a society experiences that Intangible Cultural Heritage contributes to human sustainability, by additionally meeting current and future social challenges. In the region of Styrian Volcanic Land situated right at the border region with Slovenia, Intangible Cultural Heritage has a special status. People have been called to a process of appreciating and recalling old traditions and forms of expression for at least 20 years by now. They find pleasure in them and thus shape their living environment, sometimes without knowing that their knowledge is part of Intangible Cultural Heritage.
Sociologists know that different cultural techniques connect us human beings with each other. In Styrian Volcano Land, we see the goal and task of the project ARTISTIC to raise awareness and to talk about these common techniques and the common knowledge. It is important to make techniques visible and to tackle their value. Thus immaterial cultural heritage has become an very lively matter. It creates identity, stability and encourages people to act. This way people in the region experience social cohesion and become aware of what it means to participate in being European. As humans need to define values, without the visualisation of its uniqueness, the cultural heritage of our region risks to become extinct, as nobody might learn to take care of this heritage or to cultivate it for future generations.
The ARTISTIC 1st Pilot Action aimed at the generation of at least 76 Business Plans overall, in all 8 project regions, for the valorization of local ICH project ideas according to local needs. The subject areas of the business plans were varied, depending on the specifics of each region. The partners have undertaken customized activities to develop Business plans, including 1to1 meetings, coaching, small workshops, pitch sessions.
These activities for the delivery of the business plans were divided into several stages:
Launch of an open call for business ideas oriented to local ICH valorisation
State Aid Compliance
Provision of assistance services to selected ICH actors aimed at project idea assessment and business plan development, using supporting tools elaborated within the ARTISTIC project
Delivery of business plans
Selection of the business plans to be a candidate for the admission to the transnational pilot action.
As a result of the open call in each country, a list of ideas was created. This list ultimately included 132 ideas from 8 Central European regions. The project partners offered a wide range of services to the local stakeholders to support them in developing the business plans.
When implementing the content of this activity, the project partners also used the services and tools developed in the earlier stage of the ARTISTIC project, which enabled evaluation of their effectiveness and usefulness in the process of supporting local actors.
As the result of the pilot action 93 business planes (out of 76 planned) were delivered by the project partners. The business plans and pitch presentations were assessed by the evaluation committees of the respective responsible project partners. As a result 34 selected ideas were identified as promising for the implementation of the Pilot action no 2.
Article prepared by Ms. Daniela Adler – representative of the Association for the Advancement of Steirisches Vulkanland, the partner of the ARTISTIC project / https://www.vulkanland.at/