ARZBERG SADDLERY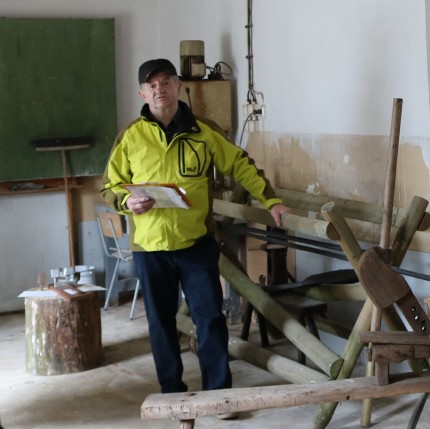 Saddlery refers to the trade of leather processing. During the Middle Ages, saddlers used to manufacture their products almost exclusively for handling animals (saddles, collars, bridles, driving gear). Today, though, this occupation also encompasses work for cars, planes or boats. Shoemakers, bag-makers or Riemer (a former leatherworking profession) are considered related trades.
Saddlery also has a historic home in East Elbe. Not only was there a demand for leather riding products, due to the Graditz horse tradition that has existed here since 1686; this craft was also sought-after in everyday country life: bridles and collars for horses and cattle working on the field and for transport purposes, as well as saddles and undercarriages used for riding and carriage outings for rural nobility.
Already in the third generation, Bankrath saddlery, located in Kaucklitz, manufactured all kinds of leather products until the 2010s: belts, moped seat covers, tractor roofs, but also accessories for horses. Even small defects on belts and shoes were expertly repaired.
In December 2018, the Arzberg Heimatverein opened a new theme room in its "Heimatstube" (hometown lounge) - the "Sattlerzimmer" (saddlery room). Equipped with utensils, machines, templates, tools and pictures - donated by the children of the last master saddler Siegfried Bankrath - this comprehensive exhibition brings the historical trade back to life.
The information and photos included in this article were taken from the brochure "EAST ELBIA - INTANGIBLE CULTURAL HERITAGE" prepared by b&s consulting and training for the rural area GmbH, as part of the "ARTISTIC" project.