BLUEBERRIES HARVEST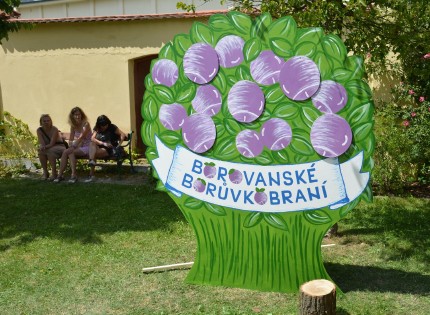 From time immemorial, raspberries, blackberries, cranberries, mushrooms, but mainly blueberries are among treasures the South Bohemian forests offer. The natives can process them with success, their picking and processing has been a part of the local folklore, the recipes for meals made from this fruit are transferred from one generation to the other and these meals have been very popular in the region. Not only blueberries, but also picking and processing mushrooms have been a local speciality for centuries. Mushroom picking has been a passion of inhabitants of South Bohemia up today. They are processed by drying, freezing, conserving and even at Christmas Eve, the traditional mushrooms with peeled barley (the meal is called kuba) is an integral part of a Christmas meal. Borovany, town with its well-deserved title blueberry paradise, is a place where the local inhabitants came with the idea to organise festivities. The originally local event grew in a course of few years to one of the most successful regional gastronomic and folklore specialities.
During the second weekend in July, Borovany monastery as well as the whole town dresses in the blue colour and the local associations and volunteers prepare blueberry delicacies processed in various ways for thousands of blueberries lovers. For cakes, jams and marmalades, liquor, cocktails, wine, žahour (blueberry cream
sauce) or sale of fresh blueberries, almost 4 tons of blueberries are consumed and used. The blueberry feasting is complemented by traditional craft fair and by rich cultural programme for children and adults.
The information and photos included in this article were taken from the brochure "JIHOČESKÝ REGION, ČESKÁ REPUBLIKA - INTANGIBLE CULTURAL HERITAGE" prepared by the South Bohemian Chamber of Commerce.