BOOSTEE-CE IS PROUD TO ANNOUNCE THEMATIC WORKSHOPS ON ENERGY EFFICIENCY IN PUBLIC BUILDINGS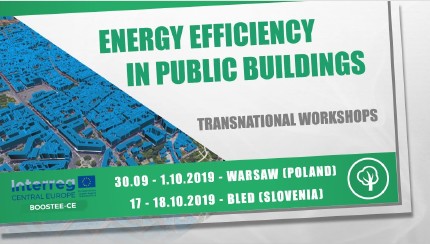 The international trainings welcome municipality staff, public building operators, urban & energy planners, citizens and researchers to take part in these unique transnational opportunities on energy efficiency in public buildings at EU level.
During the two-day events in Warsaw and Bled, the following topics will be presented and discussed:
The OnePlace project Platform, an online tool allowing visualization and query of energy data (consumption, audits, PV potential) within 3D city models to enhance assessment, understanding and planning of energy uses and flows. At the same time, the online platform offers guidebooks, tools and best practices to improve energy efficiency of buildings.
Energy planning for boosting public building energy efficiency: presenting best practices from across Europe related to energy efficiency planning.
Finding a suitable funding source and financing model for energy efficiency, offering easy-to-deploy practical steps related to the use of national & EU-level resources for energy efficiency.
Participation is free of charge. 
The events will be held as follows:
More information will be available soon on the project website (https://www.interreg-central.eu/Content.Node/BOOSTEE-CE.html) and Facebook page (Facebook https://www.facebook.com/BOOSTEECE/), together with our latest activities and developments.