In Harmony with the Inner and Outer Nature | In armonia con la natura interiore ed esteriore
The documentary films were made by Lenka Ovčáčková in 2019/2020 in the framework of MaGICLandscapes project. She spoke to people from the project regions about their relation to nature and the surrounding landscape - the green infrastructure resource. All five films are available in the spoken national language(s) with respective subtitles and additionally in a version with English subtitles. Please view the regional versions without English subtitles directly on our Youtube Channel.

The Italian documentary "In harmony with the inner and the outer nature is dedicated to the profound perceptions of nature in the Piedmontese regions of the Turinese hillscape and the adjacent riverine landscape of the Po as well as to the active involvement of people concerned towards the safeguarding of life in harmony with nature. It is deepened by the thoughts of the Turinese philosopher Gianni Vattimo (born 1936). Script, camera, sound, editing, directing: Lenka Ovčáčková, 2020 (Italian and English), 24:47 min.

Il documentario italiano "In armonia con la natura interiore ed esteriore" è dedicato alla profonda percezione della natura nelle regioni piemontesi del paesaggio collinare torinese e dell'adiacente paesaggio fluviale del Po, nonché al coinvolgimento attivo delle persone interessate alla salvaguardia della vita in armonia con la natura. È approfondito dal pensiero del filosofo torinese Gianni Vattimo (nato nel 1936).
Sceneggiatura, macchina da presa, suono, montaggio, regia: Lenka Ovčáčková, 2020 (italiano e inglese), 24:47 min.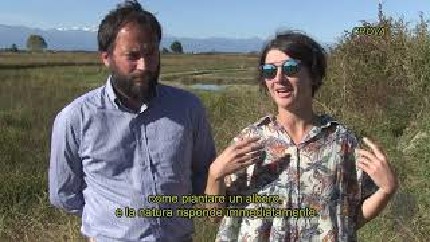 Back to MAIN PAGE