EAST ELBIAN APPLE DAY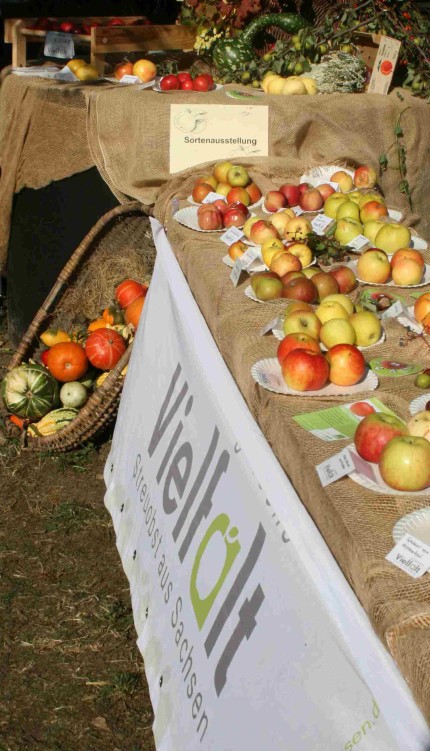 In 2007/2008, the community of Arzberg and its partners converted a former farm that was standing empty into an adventure area - this saw the creation of "Alte Bauernhof Kathewitz" (Old Kathewitz Farm). It is located in an idyllically-situated district with only twelve inhabitants, next to the "Alte Elbe Kathewitz" nature reserve. Numerous collectors' items in the pub, which used to be a pigsty, are reminiscent of the past; there is a living room that dates back to the 1960s, and the kitchen has an old oven, which is happily used by the Kathewitz baking team for baking cakes, stollen and bread. What is more, the attic area invites visitors to the exhibition of the Elbe flood in 2002, and a wooden hall that provides space for about 80 visitors offers cultural event possibilities.
The museum area, with its modern and appealing outdoor stage, barbecue corner and seating areas, attracts guests to a variety of events. The East Elbian Apple Day is an interesting annual festival, which has been hosted here since 2014.
It lasts six hours and is celebrated on the 3rd of October, a national German holiday. Here, the apple is at the centre of attention: tasting, exhibition, identification, apple pies, apple juice and apple schnapps – everything revolves around the Germans' favourite fruit. Old, nearly forgotten apple varieties are also presented here. With further additional highlights, the Kathewitz baking team and its partners offer guests from near and far a varied day full of interesting experiences.
The information and photos included in this article were taken from the brochure "EAST ELBIA - INTANGIBLE CULTURAL HERITAGE" prepared by b&s consulting and training for the rural area GmbH, as part of the "ARTISTIC" project.