Establishment of renewable energy-yard in Zala County
Following the renewal of the old school building an energy-yard has been established as the pilot investment of the RURES project that is implemented in the framework of the INTERREG CENTRAL EUROPE program with the participation of Zala County Government.

The members of the stakeholder group of the project promoting the sustainable use of renewable resources and energy efficiency met in the local cultural house, where Imre Pácsonyi, vice-president of the general assembly of the county informed them on the actual results and the plans concerning the further development of the energy-yard. Then the implementation concept has been introduced by Csaba Szabó developer.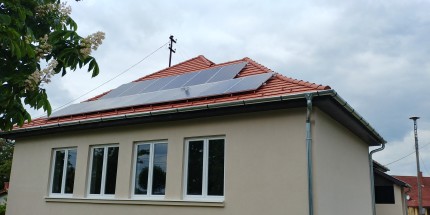 In the followings Krisztina Hordós, managing director of Le-Ko Ltd. spoke about the energy-yard. She explained that a solar collector and solar-cell system, a vertical wind-turbine and a vegetable oil fed mini power plant have been installed in the building. She told that 4 panels – altogether 2.5 m2 - have been placed on the roof. Besides the system includes a circulation pump, a 550 l water-tank and a solar control module. The 4 kW annual prodcution of this solar system means a saving of 176 000 HUF calculating with the actual prices of the electricity. A vertical wind-turbine has been settled in the yard with the capacity of 1 kW, which also contributes to the current production and the produced power is stored by 2 long-life accumulators of 12 V. These are placed in the attic of the building, from which a socket goes down to the house. A mini power plant fed by vegetable oil also helps in producing current of 220 V. Practically it operates as the engine of a car.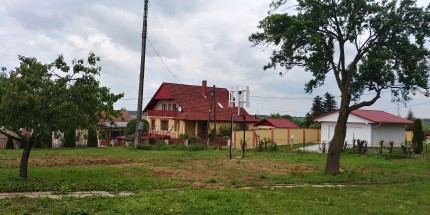 Following the presentation the participants visited the energy-yard and studied the mini power plant fed by vegetable oil in operation.