FINAL COMMUNICATION KIT
Natural deposits of mineral waters and hot springs are well known in Central Europe. Their curative power is widely used and they are important drivers of local and regional economies, especially in health care, wellness and tourism sectors.
However, a common challenge is the sustainable management of these natural resources which on one hand are a basis for the existence of SPAs and on the other hand are a subject of various threats and pressures related to economic and urban development.
Therefore, HealingPlaces project main objective is to improve current management practices of mineral & thermal water and other valuable natural resources at health resorts.
HealingPlaces project has been an original idea, stemming from the different sectors needs and partners previous experiences integrating different local and regional approaches to solving the problems of SPAs internationally at the scale of Central Europe area.
HealingPlaces activities were grouped around 3 main aspects: one was dedicated to environmental mapping and assessment, the second main theme covered the so-called pilot actions testing the newly developed solutions while the third one dealt with the development of a common strategy for sustainable SPAs.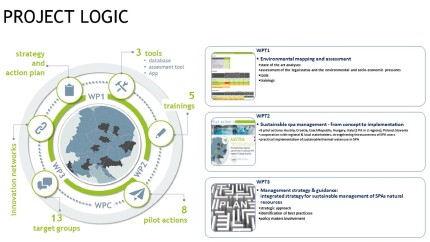 Want to know more about HealingPlaces project? Here you can find our final communication kit: