FramWat kicks off in Warsaw
Two-day meeting brings together project partners from six countries.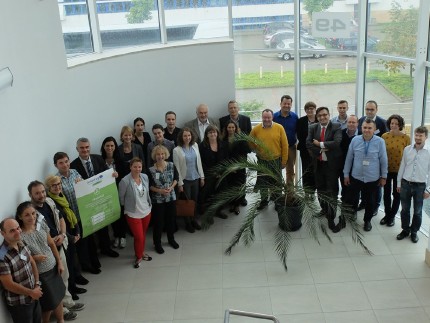 A kick-off meeting for the FramWat project was held on September 11-12, 2017, in Warsaw, Poland. The event was hosted by the project's lead partner, the Warsaw University of Life Sciences (WULS). All nine project partners from six countries, the Interreg Central Europe Programme Joint Technical Secretariat, Project Manager, Financial Manager, and other associated partners, met for two days of engaging meetings and interactive sessions.
FramWat is a project co-funded by the Interreg Central Europa Programme, and it aims to strengthen the regional common framework for floods, droughts and pollution mitigation by increasing the buffer capacity of the landscape. It aims to do so by using the natural (i.e. 'small') water retention measures (N(S)WRM) in a systematic way. Partners will develop methods to translate existing knowledge about N(S)WRM features into river basin management practice. This will result in improving water balance, decreased sediment transport, and enhanced re-circulation of nutrients.
During the kick-off event, the participants discussed details of implementation activities, communication activities, management structure and administrative reporting steps. Also introduced were characteristics and information about the project's six pilot areas, which are the following:
Bednja River (Croatia);
Kamniska Bistrica (Slovenia);
Middle Tisza District, left bank (Hungary);
Aist Catchment (Austria);
Slana River (Slovakia); and
Kamienna River (Poland).
The project partners also had an opportunity to visit the WULS water laboratories to gain deeper insights into the research being conducted there.
Following the kick-off meeting, the project Steering Committee was established and held its first meeting, dedicated largely to ensuring high-quality implementation of the project.