GROSSTREBEN BREAD-BAKING TRADITION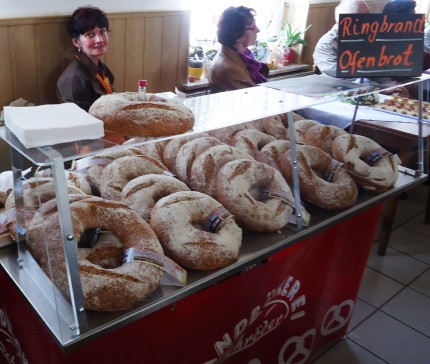 It is believed to be one of the oldest foods enjoyed by people and the Germans' favourite food today - bread. An enormous number of bread varieties can be produced using the basic ingredients of flour, water, salt, and leavening agents (such as sourdough or yeast), apart from other ingredients. Today, 3,238 varieties are known in Germany alone.
Natural ingredients, plenty of time for proving and thoroughly-baked dough – these are secrets behind finest, delicious bread, and they are also appreciated by the master baker, Heiko Schröder, from Großtreben. The country bakery in the municipal area of Beilrode, situated in north-eastern Elbe, was founded by his ancestors in 1920. About one century later, the master baker is creating new, contemporary varieties, such as top-fit bread with lots of protein and fibre but reduced carbohydrates. Nevertheless, he also knows and maintains the quality of the historic breads.
On the occasion of the 150th anniversary of the local Ringbrandofen Großtreben historical monument in April 2015, his bakery produced "Großtrebener Ringbrandofen-Brot", using a historical recipe. Special ingredients - sauerkraut and ham - were processed in the wreath-shaped bread dough. The explanation is as simple as it is logical: there was no need to serve these dishes on a side plate, as they were compactly included in a loaf of bread.
Other bread recipes, like "Grandpa Willi-Brot", handed down from ancestors, are also on the bakery's current list of offerings - and they also have their lovers today. For his breads, the master baker uses his own, carefully-nurtured and cultivated natural sourdough. Highly-qualified employees with comprehensive knowledge and skills in the art of baking, as well as numerous other subtleties, are the foundation of this great craftsmanship that only has one objective: baking the perfect bread.
The information and photos included in this article were taken from the brochure "EAST ELBIA - INTANGIBLE CULTURAL HERITAGE" prepared by b&s consulting and training for the rural area GmbH, as part of the "ARTISTIC" project.