Trsteno Arboretum - Mediterranean historical garden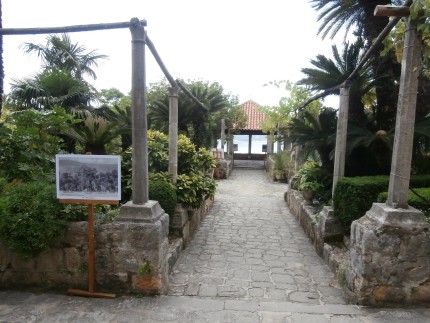 Out of many wonderful places with immense historical significance that Croatian city of Dubrovnik hides, there is one that captures connection between history and nature beautifully. Behind the name of Trsteno Arboretum lies the oldest arboretum in this part of the world. The word arboretum is of Latin origin and describes special kind of historical garden, a botanical collection composed exclusively of trees. In arboretum you can usually find many types of woody plants which are grown and intended at least in part for scientific purposes and study. Now, you may not have heard about Trsteno or its arboretum at all, you may not even knew what that word means, but the curious thing is that you have probably seen the place! You just didn't know about it! To make things more interesting, it is safe to say that at least 10 million persons have actually seen Trsteno. And although this number does seem vast and exagarated, if you take into consideration that the place or medium in which Arboretum was presented had over 10 million viewers per episode across all platforms, few things become much clearer. To clarify presented mystery, Trsteno Arboretum was one of the major colourful locations in which mega-popular fantasy show Game of Thrones was filmed! This croatian medieval garden was one of the sets in the third and fourth season that served as the setting of the Red Keep palace gardens in the city of King's Landing and as Tyrell HighGarden as well. Many viewers of the show watched how king Joffrey I Baratheon, queen Cersei Lannister or "Queen of Thorns" lady Olenna Tyrell strolled the gardens of Arboretum, weaving complicated webs of intrigues and mysteries and deciding the fate of the Seven Kingdoms. Sharing their enigmas and political secrets while enjoying in peace and safety of this late medieval hidden Eden of Croatia. Certainty of Arboretum Trsteno's significance is even more underlined when even fictional characters recognize its importance, we dare to say.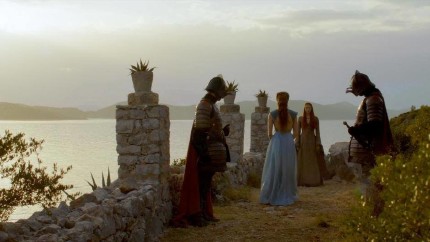 In the same way as Game of Thrones actors walked its paths today, we can imagine how real nobles strolled down pathways of this garden few hundred years ago. This historical garden was erected by the noble family of Gozze (cro. Gučetić) in the late 15th century, while Gozze were one of the most important political actors in the life of medieval Dubrovnik Republic of Ragusa. According to some historians, family of Gozze were even one of the original settlers of the Republic! Among all the political decisions they had to deliver and all the philosophical texts they wrote (from this family emerged one of the most important Croatian philosophers of this period as well, Nikola Gučetić) Gozzes had the time to request from all ship captains from Ragusa harbour to bring back seed and plants from their many travels. It was Ivan M. Gozze, patriarch of the Gozze family at the time, wealthy merchant and a shipowner who had the idea to construct a summer residence with gardens. His intention was to built a haven in the secluded part of Dubrovnik Riviera enriched with flora collected around the world. Not only Ivan M. Gozze ordered his ship captains to bring exotic seeds, but the captains had to load the empty ships with dirt after selling their cargo, thus bringing back to Dubrovnik much needed fertile soil. This soil collected from all around the Europe transformed the once dead, barren and unattractive stoney piece of ground into a enormous complex of Renaissance gardens.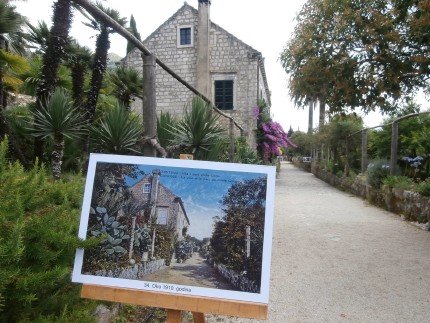 Thus, Arboretum Trsteno came to life, collecting over 300 species of exotic and decorative trees and shrubs, intertwining harmoniously Asian and American plants with the characteristic Mediterranean cultures. Although we can't be sure about the exact date of Arboretum's origin, we know for a fact that it was already in existence by 1492. That's the year in which, while Columbus was busy discovering Americas, Ragusan family of Gozze was busy erecting 15 m long aqueduct to irrigate their new arboretum accompanied by a villa, an aqueduct which is still in use today. Two of the many trees irrigated by this system are located on the central market place of Trsteno and are know as a pride of arboretum. They are two magnificent crown jewels of a large, deciduous tree known by a name of Old World sycamore or more commonly, Oriental plane. They are over 500 years old and are unique specimens of their kind in Europe. These ancient Asian trees are tall almost 60m and their trunks are 5 m in diameter. If you walk a little bit further, among the trees you will find impressive baroque fountain of Roman god of sea Neptune, erected in 1736, guarding in silence his vast kingdom of green.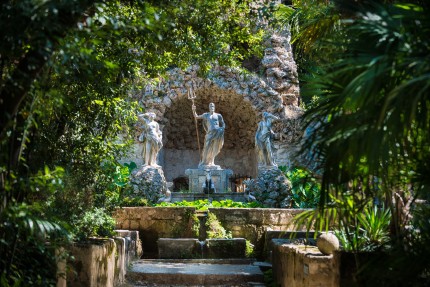 Being in Gozze family ownership for almost a half of millenia, the arboretum passed into Yugoslav state ownership in 1945, and was declared a natural rarity in 1948. Croatian Academy of Sciences and Arts took over the management of the gardens soon after, and in 1962 they placed it on the list of protected natural monuments as a monument of landscape architecture, protecting vast area of 255,000 square metres. During history, Arboretum Trsteno suffered a great deal of damage, some by natural consequences, some by the hand of men. Firstly during the Great Earthquake of Ragusa in 1667, which all the city of Dubrovnik remembers by its devastating magnitude. Secondly, during the Croatian War of Independence in 1991, when Trsteno suffered extensive damage and looting by the Yugoslav People's Army who set the Arboretum afire, destroying in the process a large part of it. After the War, arboretum lost 120,000 square metres in year 2000 caused by a forest fire during a drought. Finally, at the beginning of the new millenia, Arboretum was restored by the Croatian Academy of Science and Arts and opened to visitors. Not even earthquakes, riffles, bombs nor fire could destroy arboretum in the end. The idea that it represents, history connected with nature, exotic life intertwined with local one; peace, harmony and meditation that hide in the shades of ancient trees in this Mediterranean haven could not be torn down. In the end we might observe this story as a motivational fuel: every tree can be planted again, but only if we are the ones who plant the seed and nourish it. Only then, by actions of good, hardworking and motivated people can Arboretum still be, in the words of the house Tyrell from Game of Thrones, growing strong!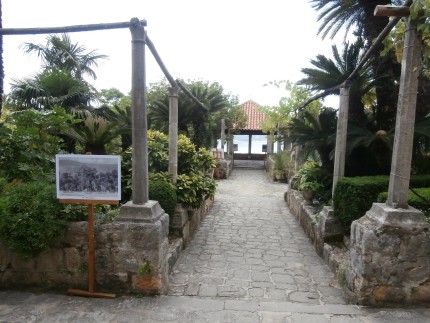 All photos property of Facebook page Arboretum Trsteno
Sources and further reading:

Absolute Croatia – Arboretum Trsteno
Croatian Academy of Sciences and Arts – The Trsteno Arboretum
Dubrovnik Online Travel Guide - Trsteno Arboretum, the oldest renaissance garden in Dalmatia
Dubrovnik Tourist Board - Trsteno Arboretum
Krasanka Majer Jurišić, "Styles and Faces of the Gučetić Villa in Trsteno: Results of Conservation-Restoration Research," Peristil: zbornik radova za povijest umjetnosti, Vol. 58 No. 1, 2015, p. 19-36
Maja Kovačević, "The Significance of the spontaneous Vegetation in the old garden of the Arboretum Trsteno (Croatia)," Acta Botanica Croatica, Vol. 55-56 No. 1, 1997, p. 29-40
Mladen Obad Šćitaroci and Maja Anastazija Kovačević, "Arboretum Trsteno – the Gardens of a Renaissance Villa," Art bulletin, No. 64, 2014, p. 101-131