KIELCE PILOT: Chatbot SAM

Smart City tool for managing organizations networks, boosting innovation and development
Thematic fields: GOVE - Government and public sector, SOCI - Population and society, TECH - Science and Technology    
SHORT DESCRIPTION
The Pilot project is a Virtual Community Assistant called SAM. It is a smart link between people and organizations which makes a positive impact on all participants. SAM creates a smart ecosystem base on social media and public communication platforms (e.g. Facebook Messenger). The platform uses instant messaging to provide a solid information exchange and makes efficient business connections between people.
PILOT DESCRIPTION
SAM is a Chatbot which uses Artificial Intelligence. SAM is tested and developed in Kielce Technology Park. It communicates with people through a natural language and collects information from different sources. Its knowledge is based on data provided by personnel of KTP and information/suggestions from users. SAM is available for everyone who has an email address, social network accounts for example Facebook account. Users have a few entry points: Facebook fan page (https://web.facebook.com/technopark.kielce), web page and e-kiosks placed in KTP.  Another way to access SAM is to scan the Messenger Code. Messenger Codes can be scanned, like an instant link, to the bot by a user, no typing needed.
The Pilot project covered aspects of a smart ecosystem. The main focus was on mobility and information flow. Our activities delivered by Chatbots will help to manage discussions, information and active participants.
The project development led in agile methodology with monthly advances of the Pilot project. The Continuous validation process aimed at identifying the riskiest assumption in order to test. The experiment results were used to correct the course.
SAM uses a natural language. Participants use tools that they know like Facebook Messenger or E-mail. They have the ability to communicate with the organization in the same way as they communicate with their friends. The user talks to the bot, they able to say "I wanted to report a failure…" or "I would like to consult a lawyer", "I'm looking for marketing firm" or "Who is responsible for IT solutions" etc. SAM resolves the problem immediately or asks some additional questions (Frequently Asked Questions). In the end, SAM connects the user with people/organizations that can help to resolve the particular issue. In the communication process, SAM uses text, but in the future images and movies. Chat uses ready-made scenarios based on the most important information about KPT: space rental, business support, looking for a person or company, cooperation with KTP. In addition, SAM uses QR codes with information about companies located in the KTP space. All you need to do is to scan the code using the Messenger application to receive information about the company located in a particular office - name, industry, contact details and opening hours. In addition, other QR codes provide the ability to determine where the current device is located.
SAM has been designed to act like a real person who might be a part of a team. It tries to understand the information like a human. It can interact with participants by the user interface. A lot of people, who visit the Kielce Technology Park, have a problem with finding direction to the right company or administration department. SAM shows a map with the directions and company location.
SAM uses instant messaging (IM) which is an efficient way to connect with your contacts in real time. IM is less formal than email and a much faster way of communication. It is also cheaper than a phone call and easier to use.
Instant messaging provides real-time communication that is not as intrusive as when you're using a phone. You can be chatting with your partner right on your laptop while doing a number of other things. But with a phone call, you both would have to pause whatever you were doing to effectively communicate with each other.
SAM was built in three stages. A main role in the process was to retrieve training data collected by a web crawler, databases or files. The information was duplicated to prepare data store for data classification. Data classificatory was used to extract the most significant data for each group of participators. In stage two – training module. The trainer was developed to analyse a list of relevant (training pages) and irrelevant links (discovered in the first stage) and compute probabilities about the keyword-category after each training session.  The training results were then used by the classifier developed in stage three, which takes into account the 'knowledge' accumulated during training and uses this to make intelligent decisions when classifying new, unseen-before web pages.
Virtual Community Assistant aims at changing communication. In the world of social media, the platform working on the Messenger is the most relevant choice. The users use the platform that he knows. Moreover, Chatbot concept as artificial intelligence is the most dynamically developing technology for now.  
Beside strictly technical challenges in the pilot we faced, challenges were also:
How to encourage people; companies to use such Chatbot system.
How to address the general public to get real feedback (testing of apps was necessary)
How to motivate cooperation of other public institutions to give input about events, a person who can be helpful within the Chatbot?
How to communicate with different stakeholders without actual political support?
Communication (language) adapted to the target group
How to enable an environment for living-lab (IT equipment, passwords, personal information needed)?
How to make the process sustainable, after the project ends, what will be the next steps?
In result SAM is "intelligent" tool which helped to create:
•    NEW SERVICE FOR CITIZENS AND COMPANIES
Thanks to joining work of Kielce City citizens, companies in the Kielce Technology Park a new solution has been created. A Chatbot offering a series of services to citizens and companies. With the implementation of the participatory process through Innovation Methods - Service Design Crowdsourcing - Online Engagement approach, a new service SAM Chatbot was developed for the citizens of Kielce– with the citizens of Kielce.
•    NEW BUSINESS FRIENDLY ENVIRONMENT
Until now there wasn't a satisfactory way to enables citizens to feel good about themselves, saving them time and gathering important crowdsourced data to improve cities urban experience because of the weight of the bureaucracies or limited possibilities of available solutions. The Chatbot will give easy and fast access for citizens and companies to co-creating the participatory process and upgrade their knowledge and experiences to be able to implement the participatory processes in other cases.
•    NETWORKING and NERW SET OF CONTACTS
The goal of networking is to give each other mutual assistance and support. Having a lawyer or an accountant friend in the group, you can use his help and then return the help with information from your sphere of business activities. An additional benefit will be the exchange of knowledge, the opportunity to get support and seek the advice of a more experienced person. This is important especially for entrepreneurs who are just starting their business in business.
THE ROLE OF END-USERS IN PILOT DEVELOPMENT
These are the method adopted in the pilot:
Crowdsourcing - Online Engagement - SAM platform
Innovation Methods - Service Design – Hackathon
Planning the future – WorldCafè
Many users have contributed to the final version of the pilot. Each of the users had the opportunity to test chatbot SAM through the messenger application and the published QR-code for the messenger.
MAIN STAKEHOLDERS INVOLVED
Kielce Technology Park organized few meetings within URBANI NNO project to develop and disseminate project pilot. Meeting with entrepreneurs took place in Kielce Technology Park, also in Institute of Design on Techklub Kielce during Kielce IT Days. Entrepreneurs from the Kielce Technology Park received information via the newsletter and mailing about the SAM chatbot and an official invitation to test the tool.
PERSPECTIVES
In the future, Chatbot SAM will be expanded with additional functions, allowing people to search for competences and issues, and companies based on industries. In messenger application, using chatbot you will be able to check availability and reserve a conference room. In future, SAM chatbot will also be available in English. The virtual assistant will allow you to take advantage of the events organized by the Kielce Technology Park and reserve parking spaces at the KTP. Correspondence with KTP Messenger - Mail employees will be possible; Mail - Messenger. In the future, it is planned to adapt the SAM chatbot in other city units, including the City Hall. It will be possible to build a database: testing, asking questions, suggesting answers - by KPT employees, tenants, city residents etc.
PARTICIPATORY METHODS
Kielce Technology Park is an institution of the business environment that participates in many local and national events. Kielce Technology Park uses many methods of participation. Among other things, it is a lot of networking and information's meetings that aim to present the resulting solution.
The first meeting took place in Warsaw, it was a nationwide event with international guests. SAM was presented during the Smart Cities conference at 15th. November 2018 r. in Warsaw. It was an open and free event for people represents representatives of the central authority, representatives of local government, representatives of higher education and R&D centres, organizations of the business environment, domestic and foreign investors, SME entrepreneurs. Thematic focused on  Concepts of intelligent urban development. What is the greatest potential for cities? How cities use modern technologies. Municipal waste management vs. lower costs of heat and electricity and impact on the quality of life of residents. What is the Smart Grid - one of the basics of the functioning of SMART cities? What is the intelligent development of transport and infrastructure - how to implement it?
SAM's presentation was part of the plenary session "New technologies - an important element of dynamic urban development" and participant in the discussion "Urban resources management - intelligent city infrastructure and ecological and sustainable transport". We talked about connecting ecosystem partners as a recipe for smart cities and focused on disseminating and promoting of KTP pilot as the results of the Urban Inno project and general information about UI.
The second meeting was a networking meeting for KTP Entrepreneurs - the meeting took place in January this year. Entrepreneurs got to know the functioning of Chatbot SAM and learned about the possibilities of such a tool. They learned how to use the tool and were informed about how to use it.
The KTP will continue to develop the tool, train it and build the database with further information. We plan to present SAM on all internal events organized by the Park, thematic and industry meetings. In addition, we will engage users to continue testing SAM and reporting further functionalities for implementation. Another form of development will also be promotional and communication activities in social media.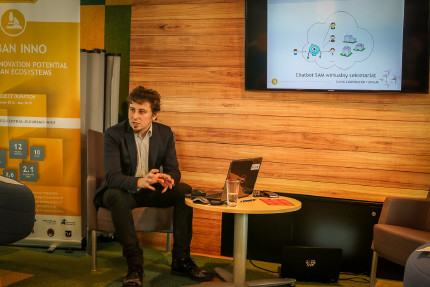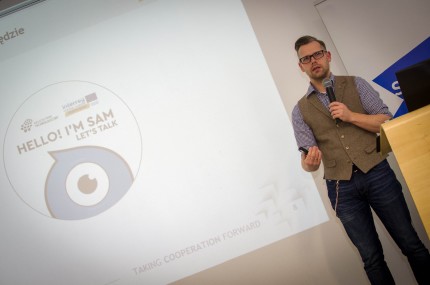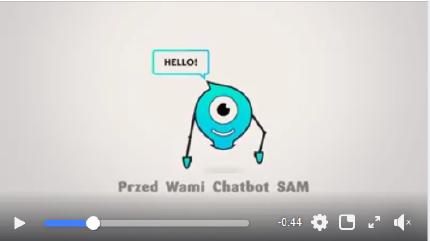 MORE ON KIELCE PILOT:
Kielce Pilot: Startup Weekend in Kielce Technology Park