FINAL CONFERENCE

 July 3, 2019 - Rijeka (HR)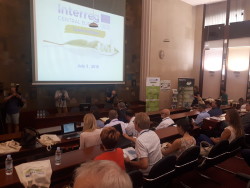 GreenerSites Final Conference was held in Rijeka last 3 July 2019.
The conference brought together local and regional authorities and private companied interested in the development of brownfield sites.
It  presented main project achievements with a specific focus on the results coming from the local pilot actions.
At the same time, it was was a perfect occasion to new perspectives for brownfield management in the EU, thanks to the presence of several speakers from European networks operating at EU level on brownfield management .
All presentations are available here:
Session I – The GreenerSites Project and the Interreg CENTRAL EUROPE PROGRAMME
Session II - New strategies for the rehabilitation and regeneration of the contaminated sites
Session III - systems for monitoring the contamination in the groundwater, soil and air
Session IV - Testing of some remediation methods
Session V – Perspectives for brownfield management in EU