Specific objective 4.1 
To improve planning and coordination of regional passenger transport systems for better connections to national and European transport networks.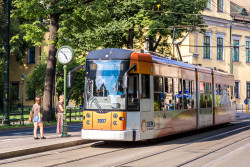 Transnational cooperation will reduce existing disparities of know-how as well as increase the planning and implementation capacity in the field of integrated passenger transport systems where better regional and transnational coordination between stakeholders is considered a key factor. Transnational cooperation can strengthen connections to TEN-T corridors and to primary, secondary and tertiary transport nodes of the TEN-T network, in particular for peripheral regions. A specific focus will be put on public transport at regional level as the sustainability of those connections is considered to be an underlying principle. Strategies, tools and pilot applications will contribute to setting up improved connections to the TEN-T network and transport nodes. Furthermore, within the transnational context the development of coordinated concepts for smart regional mobility and services is foreseen, fostering improved service standards and interoperability. Particular attention will be put on mobility services in the public interest.

Additional information about this funding objective is available in the Interreg CENTRAL EUROPE Cooperation Programme.

OUR PROJECTS
Frist call
RUMOBIL
Second call
CONNECT2CE
Peripheral Access
SHAREPLACE
SubNodes
TRANS-BORDERS
Third call
SMACKER
YOUMOBIL
Fourth call
RegiaMobil